Larry Kudlow accepts job of White House National Economic Council director, replaces Gary Cohn
Conservative commentator and former Reagan administration official Larry Kudlow has accepted the job of White House National Economic Council director, replacing Gary Cohn, Fox News has learned.
President Trump offered Kudlow the job just one week after Cohn resigned from his post as the president's chief economic adviser, a senior administration official told Fox News.
"Larry Kudlow was offered, and accepted, the position of Assistant to the President for Economic Policy and Director of the National Economic Council," White House Press Secretary Sarah Sanders said in a statement Wednesday. "We will work to have an orderly transition and will keep everyone posted on the timing of him officially assuming the role."
Kudlow's extensive career in finance includes stints working for the Federal Reserve Bank of New York and serving as a chief economist and senior managing director at Bear Stearns, the defunct investment bank that failed during the 2008 financial crisis.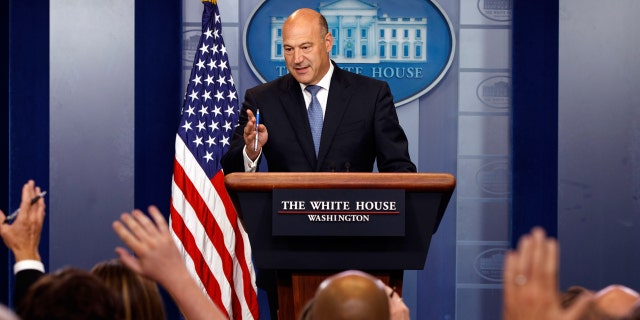 Kudlow served as the associate director for economics and
planning in the Office of Management and Budget (OMB) during former President Ronald Reagan's first term.
Kudlow is now a CNBC senior contributor and was previously the host of CNBC's prime-time "The Kudlow Report."
Cohn resigned amid opposition to the president's decision to announce tariffs on all imports of steel and aluminum. Hours before his resignation, Trump set a "line in the sand" asking Cohn if he would support the new policy, and Cohn did not answer, a White House official and an outside adviser to the president told Fox News.
Kudlow, who advised Trump during the 2016 presidential campaign, also was against the idea of tariffs, writing an op-ed against Trump's plan, calling it a "crisis of logic."
The president this week reportedly acknowledged that he and Kudlow "don't agree on everything," but welcomes having a difference of opinion among his close advisers.
Just last week, the president said "I like conflict."
"I like having two people with different points of view. And I certainly have that," Trump said. "And then I make a decision. But I like watching it. I like seeing it. And I think it's the best way to go."
But Kudlow has praised the president's work on tax reform, writing last year that, "Trump and the GOP are on the side of the growth angels with the passage of powerful tax-cut legislation to boost business investment, wages, and take-home family pay. The Democrats, meanwhile, are left with stale class-warfare slogans about tax cuts for the rich."
Fox News' Blake Burman contributed to this report.