Kucinich Blames 'Mistranslations' After Report Shows Him Praising Assad on Syria Visit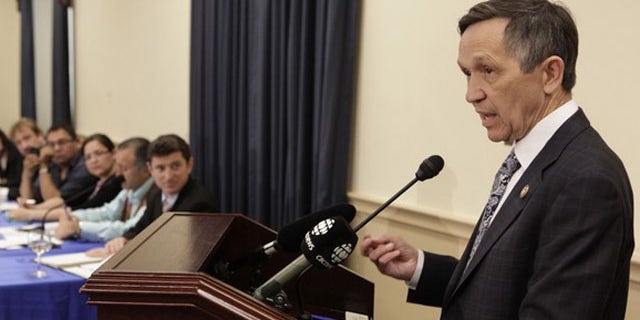 NEWYou can now listen to Fox News articles!
Ohio Rep. Dennis Kucinich, on a visit to Syria, was quoted by state-owned media describing President Bashar al-Assad as "highly loved and appreciated" and criticizing the press for giving a "wrong picture" about the deadly clashes in the country between the government and protesters.
But the Ohio Democratic congressman, while defending his trip to Damascus, claimed Tuesday his comments were mischaracterized by the Syrian press. In a statement, Kucinich said an article by the Syrian Arab News Agency contained "a number of mistranslations and mischaracterized statements."
"It is unfortunate that translation errors can create such problems. Given the stakes for Syria and the region, I will consider the article only an error, not a willful intent to mischaracterize my statements or my efforts in the region," he said.
It's unclear exactly which statements he claims were taken out of context. It's also unclear how a mistranslation could have occurred since Kucinich speaks English and the article was written in English. His remarks could have been translated into Arabic and then translated back.
According to the Syrian news article, Kucinich said: "There are some who want to give a wrong picture about what is going on in Syria."
He was quoted saying that Assad, whose government has been blamed for at least 1,400 deaths among activists, "cares so much about what is taking place in Syria." At the same time, Kucinich reportedly said the "legitimate aspirations" of the Syrian people "cannot be ignored."
Asked about the trip Tuesday, State Department spokeswoman Victoria Nuland said he was going at the invitation of the Syrian government. She said State had only a "couple of hours notice" regarding the trip, but was able to arrange for a briefing from U.S. Ambassador Robert Ford.
"He's exercising his prerogative as a member of Congress to travel," she said.
In a statement Monday, Kucinich described his trip as a "fact-finding mission" to Syria and Lebanon taken "at the request of many of his constituents" in Ohio. He said he was being accompanied by a "small delegation," including his wife. The trip reportedly was not at the behest of the State Department.
The congressman said he was meeting with democracy activists and small business owners, as well as government officials, including Assad, and the president of Lebanon.
"Peace is not just the absence of war," he said. "Peace is a conscious, active pursuit that requires work and communication. My work as a member of Congress requires that I learn firsthand about events in order to better understand policy alternatives for America and other nations."
Kucinich is one of the most anti-war members of Congress. He has recently led efforts against the U.S. military operation in Libya.