Key Democratic Sen. Claire McCaskill targeted in password-stealing scheme by Russian hackers: report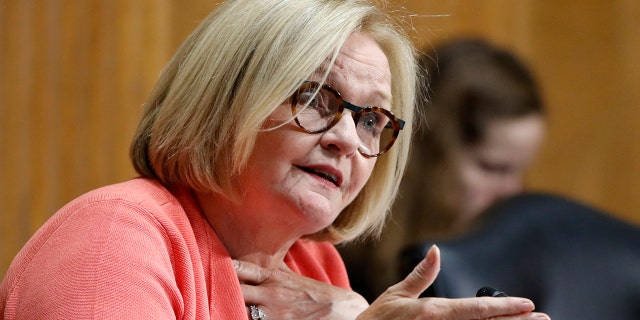 Russian hackers targeted staff employed by Sen. Claire McCaskill, D-Mo., using a sophisticated password-stealing scheme late last year, according to a new report.
The apparently unsuccessful hack, which occurred around August 2017 and was unearthed by The Daily Beast, is the latest indication that Russian President Vladimir Putin remains committed to meddling in U.S. elections, despite Trump administration warnings against future interference.
At a Senate hearing on Wednesday, Secretary of State Mike Pompeo threatened "severe consequences" if Russian hackers attempt to influence the midterms in November. And earlier this month, the Department of Justice's Cyber-Digital Task Force announced new plans to combat cyberwarfare (including election meddling), and to notify the public about suspected interference.
McCaskill, a Democrat in a state handily carried by President Trump in 2016, is a prime target for Republicans in the midterm elections as they look to increase their narrow 51-49 majority in the Senate.
"Russia continues to engage in cyberwarfare against our democracy. I will continue to speak out and press to hold them accountable," McCaskill said in a statement. "While this attack was not successful, it is outrageous that they think they can get away with this. I will not be intimidated. I've said it before and I will say it again: Putin is a thug and a bully."
She was hit with a politically damaging report Tuesday when her local newspaper revealed businesses that tied to her husband have gotten more than $131 million in federal subsidies since she took office. The report dropped as President Trump was preparing to stump and fundraise for her likely Republican challenger in the midterms, State Attorney General Josh Hawley.
INTEL DIRECTOR DAN COATS WARNS OF 'CYBER-9/11,' SAYS TRUMP'S STATEMENTS ON RUSSIA WEREN'T IDEAL
The Daily Beast traced the attempted hack of McCaskill's staff after comments made by a Microsoft vice president at the Aspen Security Forum earlier this month. Microsoft went to court last year to secure an injunction that allowed the company to seize domain names used by Russian hackers that spoofed, or imitated, Microsoft trademarks as a means of tricking targets into entering their passwords.
"Putin is a thug and a bully."
"We did discover that a fake Microsoft domain had been established as the landing page for phishing attacks, and we saw metadata that suggested those phishing attacks were being directed at three candidates who are all standing for elections in the midterm elections," Burt told attendees at the forum. "We took down that domain and working with the government actually were able to avoid anybody being infected by that particular attack."
The hackers established personalized URLs for some of their victims, and in reviewing those URLs, The Daily Beast found that McCaskill's staff was among the targets. It remains unclear whom the other targets mentioned by Burt are, or whether Russia has successfully targeted them.
There is evidence that Russian hackers have targeted Republicans, as well. In May 2017, Florida Republican Sen. Marco Rubio alleged that IP addresses originating in Russia had attempted to hack his staffers' accounts.
"In July 2016, shortly after I announced I'd seek re-election to the US senate, former members of my presidential campaign team who had access to the internal information of my presidential campaign were targeted by IP addresses with an unknown location within Russia. That effort was unsuccessful," Rubio said at a hearing. "I do think it's appropriate to divulge this to the committee, since a lot of this has taken a partisan tone."
Trump, meanwhile, has suggested -- apparently without additional evidence -- that Russian hackers would be working to help his political opponents in the coming elections. The FBI, CIA, and NSA have concluded, to varying degrees of confidence, that Russia meddled in the 2016 elections and wanted to help Trump win.
"I'm very concerned that Russia will be fighting very hard to have an impact on the upcoming Election," he wrote on Twitter this week. "Based on the fact that no President has been tougher on Russia than me, they will be pushing very hard for the Democrats. They definitely don't want Trump!"
The tweet came amid continuing bipartisan outcry over Trump's meeting with Putin in Helsinki, Finland, earlier this month. In Helsinki, Trump suggested that, contrary to his own intelligence community's assessments, he didn't see why it "would be" Russia that attempted to meddle in the 2016 elections.
Trump later claimed he had misspoken, and meant to say that he didn't see why it "wouldn't' be" Russia that attempted to interfere in the elections -- although Trump left the door open to the possibility that other nations or actors had also attempted to meddle.
Fox News' Andrew O'Reilly contributed to this report.