Kerry urges Syrian opposition groups to attend peace conference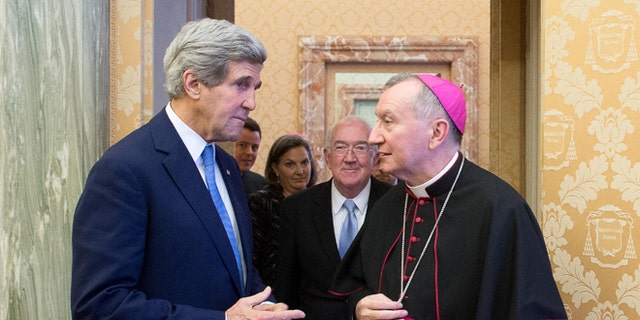 WASHINGTON – Secretary of State John Kerry urged the Syrian opposition on Thursday to attend next week's peace conference in Switzerland and said any individual chosen to lead a political transition in the war-torn country must be acceptable to both the government and opposing forces.
The opposition groups, which will vote Friday whether to attend the peace conference, say it should lead to a transitional government that would see Syrian President Bashar Assad step down and end four decades of his family's rule in Syria. The government rejects the demand and says Assad may run for re-election.
Speaking to reporters at the State Department, Kerry also pushed back against the Syrian government, which has long said that the conference should focus on fighting terrorism. Kerry said the Syrian government is to blame for instability in the country that had attracted extremists from around the world.
"We too are deeply concerned about the rise of extremism," Kerry said. "The world needs no reminder that Syria has become the magnet for jihadists and extremists. It is the strongest magnet for terror of any place today. So it defies logic to imagine that those whose brutality created this magnet, how they could ever lead Syria away from extremism and towards a better future is beyond any kind of logic or common sense."
Kerry said the aim of the conference, which begins Wednesday in Montreux, is to establish a process needed to form by mutual consent a transitional governmental body with full executive powers.
"That process — it is the only way to bring about an end to the civil war that has triggered one of the planet's most severe humanitarian disasters and which has created the seeding grounds for extremism," Kerry said.
He said that any names submitted for leadership of Syria's transition must be agreed to by both the opposition and the Syrian government.
"This means that any figure that is deemed unacceptable by either side, whether President Assad or a member of the opposition, cannot be a part of the future," Kerry said.
More than 120,000 have been killed in the war. Fighting between Al Qaeda-linked extremists and more moderate rebels has added another layer of complexity to Syria's nearly 3-year conflict that the rebels have been waging against the government.