Kerry calls for fresh Middle East peace talks as Cairo mediation gets under way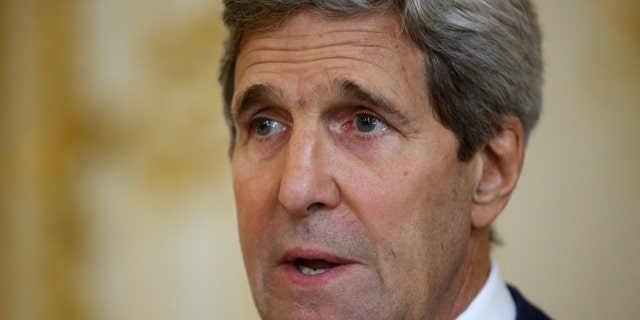 U.S. Secretary of State John Kerry has called on Israeli and Palestinian leaders to use the ongoing 72-hour truce that halted fighting in the Gaza Strip as a stepping-stone to restart more far-reaching negotiations.
Speaking to the BBC, Kerry said that both sides needed to make a "bigger, broader approach to the underlying solution of two states," adding, "I believe that the situation now that has evolved will concentrate people's minds on the need to get back to the negotiations and try and resolve the issues."
Kerry spoke on the second day of the truce, which came into effect Tuesday morning and was precipitated by Israel's withdrawal of all ground forces from Gaza. Israeli troops had begun their ground offensive July 17, nine days after the commencement of airstrikes against Hamas rocket sites as part of Operation Protective Edge. Israel said it had destroyed 32 cross-border tunnels used by Hamas to attack Israeli soldiers and civilians.
In the BBC interview, Kerry said that Israel had a right to defend itself against rocket attacks from Gaza, saying, "No country can live with that condition and the United States stands squarely behind Israel's right to defend itself in those circumstances. Period."
Kerry added that Hamas had "behaved in an unbelievably shocking manner engaging in this activity and, yes, there has been horrible collateral damage as a result."
Delegations from Israel and the Palestinians were in Cairo Wednesday for the scheduled start of talks on a longer-term cease-fire. As part of the format of the indirect talks, Egyptian mediators planned to shuttle between them to try to work out a deal.
The Palestinian delegation is led by a confidant of Western-backed Palestinian president Mahmoud Abbas and includes members of Hamas and other factions. The delegation has presented a list of demands, including a lifting of a joint Israel-Egypt blockade of Gaza and a release of Palestinian prisoners arrested by Israel in a recent West Bank sweep.
In his BBC interview, Kerry expressed conditional support for lifting the blockade, saying, "What we want to do is support the Palestinians in their desire to improve their lives and to get food in and to open crossings and to reconstruct and have greater freedom." Kerry then added that for Hamas, lifting the blockade had to come "with a greater responsibility towards Israel, which means giving up rockets."
Israel has refused to lift the blockade in the past, claiming that such an action would lead to Hamas importing more weapons into the territory, and has countered with demands that Hamas be made to disarm.
"The extent to which we are going to be ready to cooperate with the efforts to have better access and movement in Gaza will deeply depend on the kind of arrangements that would secure our peace and security," Yossi Kuperwasser, a senior official in Israel's Strategic Affairs Ministry, told the Associated Press.
That demand, in turn, has been rejected by senior Hamas officials, with one telling the AP: "We'd take the life of anyone who tries to take the weapons of resistance."
The AP also reported that the outlines of a proposed solution would call for Abbas to oversee rebuilding in Gaza and reassert his authority in the territory that his Fatah faction lost to Hamas in 2007.
Forces loyal to Abbas would be deployed at Gaza's crossings to encourage Israel and Egypt to lift the blockade they imposed after the Hamas takeover.
Kuperwasser, the Israeli official, told reporters earlier Tuesday that having forces loyal to Abbas deployed at the Gaza crossings would likely not be enough to allow restrictions to be eased, and that there should also be international supervision.
"Yes, they (Abbas' forces) can have a role in the crossings, but we can't say we can fully trust just Abu Mazen," he said, referring to Abbas. "It's got to be something more robust. International and Egyptian elements should be involved in it. And other means of supervision should be involved as well."
One key sticking point will be the import of construction materials, including cement and steel. Israel says that such materials, meant for civilian use, were diverted in the past by Hamas to build the cross-border attack tunnels
Also on Wednesday, Israel's justice ministry confirmed that the suspected mastermind behind the killing of the three Israeli teens had been arrested in July. The suspect, Husam al-Qawasmi, allegedly led a three-man cell that Israeli prosecutors say kidnapped and murdered the teens. It wasn't immediately clear if al-Qawasmi has been charged.
Israel says the cell's members are all affiliated with Hamas, though the militant group has not claimed any connection to the teens' abduction and killings.
In Gaza, people took advantage on Wednesday of the calm to return to their devastated homes and inspect the damage.
Cars and donkey carts loaded with household goods and mattresses filled the streets and queues formed at banks as people waited to withdraw cash from ATMs.
Crews from utility companies worked frantically to repair downed electricity and telephone lines, though with Gaza's only electrical generating plant badly damaged by an Israeli attack, it may be a long while before anything resembling normal service is restored.
In the devastated Shijaiyah neighborhood east of Gaza city, carpenter Mahmoud Al Maghani, 44, surveyed the damage to his property.
"I think my workshop was here, but honestly I can't make sure of that," he said. "I came yesterday and all I found was rubble."
The mood was upbeat in the northern Gaza town of Beit Hanoun, with many people expressing hope that the intensity of the destruction in this round of fighting -- the third since Hamas took control of Gaza seven years ago -- would ratchet up enough pressure on the international community to find solutions to the territory's problems.
Small groups of civilians trickled back to their homes Wednesday, making their way over buckled roads, through dangling power lines and overturned trees to inspect their neighborhoods. Along the way, rows of flattened buildings alternated with moderately damaged structures -- and rare buildings with no damage at all.
Mohammed Musleh, 27, said he had spent the last two weeks with his bride of four months and the rest of his family in the relative safety of the Jabaliyah refugee camp, south of Beit Hanoun.
He surveyed his now uninhabitable third-floor apartment in the family's home damaged by tank shelling, and said he hoped that this time a real solution could be found to end the isolation Gazans have endured since Israel imposed a blockade in 2007, followed by one by Egypt late last summer.
"The war was necessary to force the blockade to be lifted," he said. "I hope that this time there will be a really permanent solution for it."
The Associated Press contributed to this report.