Kentucky bill would let service monkeys help paralyzed people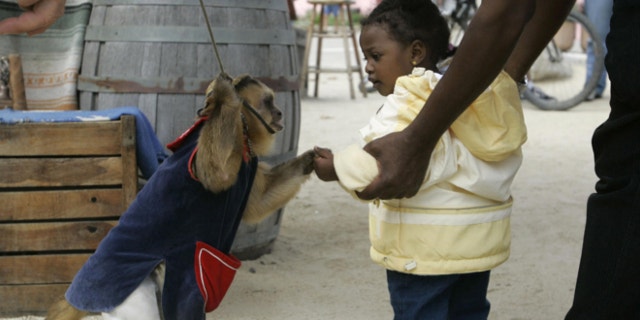 Kentucky legislators may soon debate whether to allow service monkeys to assist paralyzed adults with simple household tasks.
A northern Kentucky lawmaker has introduced the bill at the request of a family that looked into bringing in a service monkey to assist their daughter, who was paralyzed in an automobile accident. The family found out Kentucky prohibits the use of service monkeys.
"Like all families do, they were searching for ways to help," Sen. John Schickel, R-Union, said in a recent interview.
Monkeys aren't recognized as service animals under the Americans with Disabilities Act, but some states have exemptions, Schickel said.
His bill has been referred to the Senate Agriculture Committee. Its chairman, Sen. Paul Hornback, said he's willing to bring the bill up for discussion.
"I don't know much about it myself," said Hornback, R-Shelbyville. "I'm going to try to read up on it."
The measure would restrict monkeys to in-home use and would not allow them to assist their owners in public places.
Soon after the bill was introduced, critics swung into action in hopes of blocking the measure.
"Monkeys do not belong in human homes, whether as pets or service animals," said Sarah Baeckler Davis, executive director of the North American Primate Sanctuary Alliance.
She said monkeys are wild animals that need to socialize with their own kind.
"Private situations simply do not meet these needs, and this creates a significant public safety concern," she said.
April D. Truitt, founder and executive director of the Primate Rescue Center, based in Nicholasville in central Kentucky, said the bill is well intentioned but misguided. She said it could expose both monkeys and their human owners to potential harm.
"Monkeys are not domesticated animals," she said. "They cannot be made so in one generation or 20."
The Primate Rescue Center is home to more than 50 "unwanted" monkeys and apes, including cast-offs from "helper" training programs, she said.
The Kentucky family had reached out to the group Helping Hands: Monkey Helpers in hopes of arranging for a service monkey. Since 1979, the Boston-based nonprofit organization has trained capuchin monkeys to help paralyzed adults with simple household tasks.
Hellion, the first monkey it placed as a helper, spent some 28 years with its human companion until the man died in 2007, the group said on its website.
"We have 35 years' worth of history in our organization saying that they can provide service and they can be safe and wonderful companions to people in need," said Megan Talbert, the group's executive director.
The organization tries to place eight to 12 monkeys in homes across the country each year, at no cost to recipients, Talbert said. The group's work is supported by individual donors and foundation grants, she said.
Capuchin monkeys are small, only reaching 6 to 8 pounds in adulthood, she said.
The monkeys go through several years of training to perform repetitive tasks in homes, such as picking up dropped items, flipping on light switches, turning pages of books and helping their owners get drinks of water, she said. They are never trained to do personal care needs, she said.
"They do provide great companionship to their recipients as well," Talbert said. "They bond with their recipients."
Schickel said he's sure other Kentuckians besides the family in his district could potentially benefit from his legislation. He said he hopes his bill opens discussion about the topic, but doesn't know whether the proposal will make it through the General Assembly this year.
"I know there are a lot of questions about this bill," he said. "I don't know if it's possible or not."
The Commonwealth Journal in Somerset reported recently that a Pulaski County woman was cited for having a capuchin monkey in her home. The same woman also was cited in 2012 for purchasing a monkey to be a service companion for her autistic son.