Kasich sparks 2020 speculation with return to New Hampshire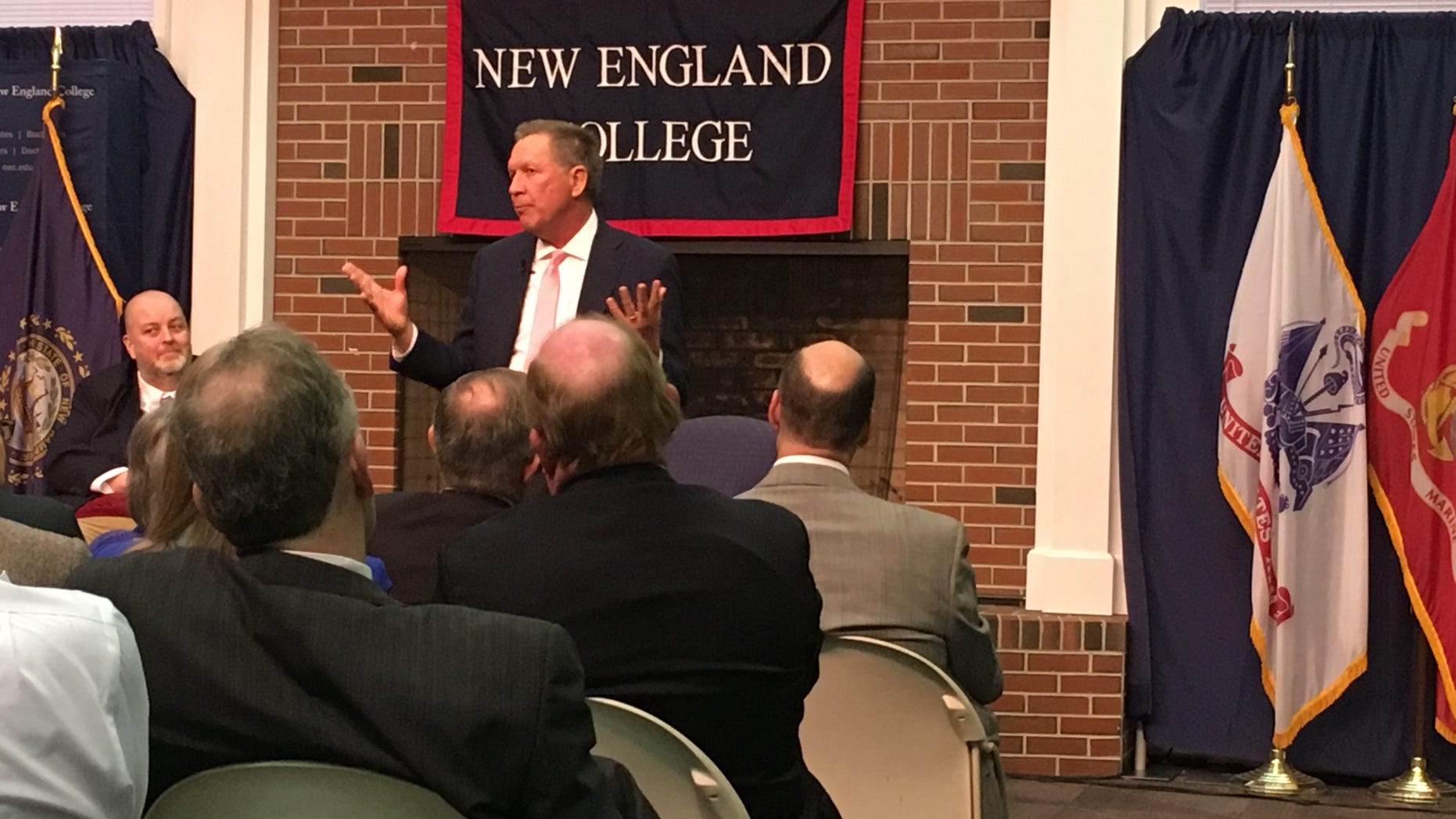 CONCORD, N.H. – Ohio Gov. John Kasich returned Wednesday to the state that traditionally holds the first presidential primary in the race for the White House.
The jam-packed 24-hour trip by the term-limited GOP governor is sparking more speculation that Kasich - a 2016 presidential candidate who finished second to Donald Trump in New Hampshire's Republican primary - is seriously considering challenging the president for the party's 2020 nomination.
"He has a lot of friends. He's very fond of New Hampshire and wanted to come back. People can read into it what they want," said Tom Rath, a former state attorney general and nationally-known GOP consultant who was a top Kasich adviser in 2016.
"He's not going to be coy," Rath told Fox News. "Obviously if anything were to be done, it would start here. But the fact that he's coming here doesn't mean anything's about to be done. I think he simply wants to be engaged in the dialogue that happens next and that dialogue starts in New Hampshire."
Kasich, a vocal Trump critic who's finishing his eighth and final year steering Ohio, is scheduled to have dinner on Wednesday with a group of his top Granite State supporters from his 2016 presidential campaign.
On Thursday, the Ohio governor will lunch with Saint Anselm College students and faculty at the New Hampshire Institute of Politics, a must stop for any White House hopeful. Later he'll pow-wow with a larger group of supporters at a gathering Concord.
He'll end his visit with a short speech and question and answer session in a town-hall like setting as he headlines the Nackey S. Loeb School of Communications 16th annual First Amendment Wards gala. The event honors New Hampshire residents and organizations that work to protect free speech and free press.
Kasich's second place finish in the 2016 New Hampshire Republican primary energized the one time longshot for the nomination into a potential contender. But in the ensuing months, the only primary he was able to win was in his home state.
Kasich camped out in New Hampshire in the months leading up to the primary, making countess friends in the state as he held over 100 town halls, as well as taking part in dozens of forums, and headlining a slew of house parties and meet and greets.
While he's not running for anything at the point, Kasich appears to want to keep his New Hampshire friends and assets viable.
"The governor will meet with some old friends and possibly make some new friends," said Bruce Burke, a longtime Kasich friend who served as an adviser to the Ohio governor's campaign in New Hampshire.
The trip by Kasich to the first-in-the-nation primary state is his second this year. During his April stop in the state, Kasich told Fox News that "all my options are on the table."