Kansas governor candidate Jim Barnett picks wife as running mate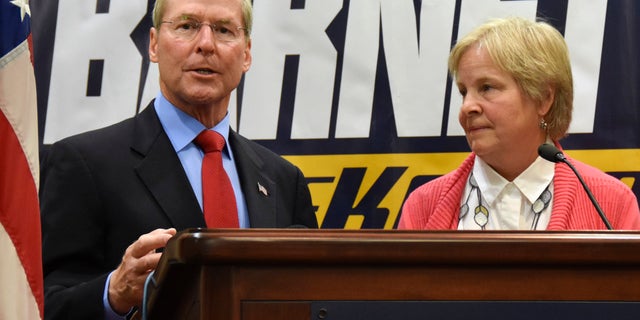 For better or worse, through sickness and health, a Kansas gubernatorial candidate has picked his wife as his mate -- for life and for lieutenant governor.
Republican Jim Barnett has selected his wife, Rosie Hansen, as his running mate as he runs for governor. The pair married in September, according to The Wichita Eagle.
"I've met and talked with people from all walks of life, from all over the state," Barnett, a former state senator, said in a statement. "Many were qualified in some areas. Only a few were qualified in all three areas. It became clear that the one person who was best qualified in all areas was also the person who had spent the past 22 months traveling 70,000 miles with me: Rosemary Hansen, my wife."
Barnett credited his wife with being instrumental in the creation of his #OneKansas agenda, which includes adding jobs, improving health care options and fixing education in the state.
"Rosie's extensive experience and knowledge of organization and management will help me improve the functioning of a state government that has gone off the rails in the past eight years," he said.
Hansen has a Master's degree in public administration from Harvard University and a law degree from the University of Minnesota. She's served overseas with as a foreign service officer with the State Department, holding positions in Afghanistan, Bangladesh, Bosnia and Thailand, according to Barnett's campaign website.
Barnett, who was the 2006 GOP nominee for Kansas governor, is one of four major Republican candidates for governor in a crowded field with a sizable part of the Republican electorate undecided. Primary elections are in August.
The Associated Press contributed to this report.