Kansas Congressional Delegation Split on Obama's NCAA Picks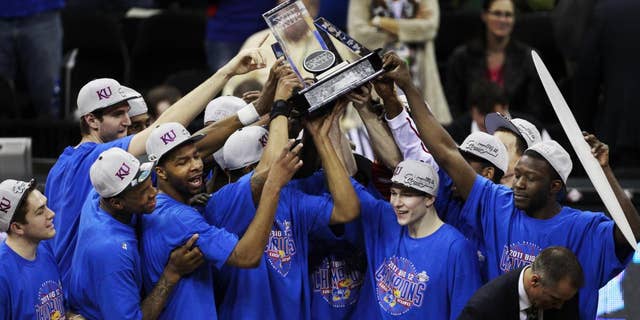 NEWYou can now listen to Fox News articles!
Though Republicans and Democrats are split on many issues, the issue of President Obama's NCAA Basketball Tournament picks has split a couple of Kansas Republicans.
The president predicted the Kansas Jayhawks, the number one seed in the Southwest region, will win college basketball's national championship.
"Finally the president and I agree on something," said Rep. Kevin Yoder, a freshman Republican from Kansas.
But Yoder's fellow Kansas Republican Tim Huelskamp is a fan of the Kansas State Wildcats. He doesn't care for the presidential prediction of Jayhawk success or the president's positions on the budget battle.
"President Obama and I just can't agree on much of anything - especially when it comes to the budget," Huelskamp said. "In his bracket, we find ourselves in disagreement again: he picked the Kansas Jayhawks to win, while I'm holding out for the Kansas State Wildcats to clench the title. And I sure hope he would find time to present a serious budget proposal long before the Championship game."
Obama predicted Kansas State, a five-seed in the Southeast region, would lose to the University of Pittsburgh in the tournament's third round, the Sweet 16.
ESPN analysts called the president's picks for this year's tournament "conservative," adding about his bracket, "That's so safe, it's Republican. Wasn't his slogan 'change'?"
Fox News senior House producer Chad Pergram contributed to this report.