Kansas City lingerie shopowners in a twist after Homeland Security's panty raid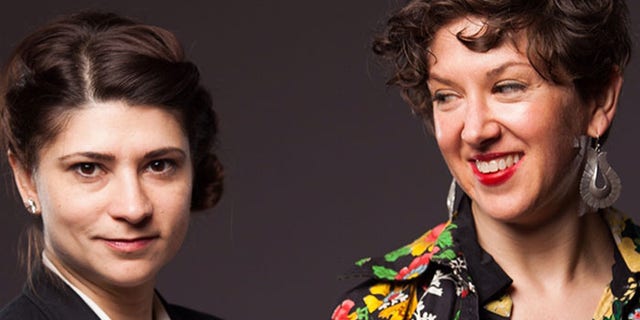 When two burly men walked into a Missouri women's underwear store Tuesday, the owners didn't think much of it -- until the pair flashed their Homeland Security badges and confiscated several dozen panties bearing the initials "KC" in honor of the Kansas City Royals.
Danielle Meister, co-owner of Birdies Panties shop, said the undercover agents seized the lingerie, claiming the store violated copyright laws by selling underwear with "Take the Crown" and "KC" printed across the rear. Meister and her business partner, Peregrine Honig, said they wanted to celebrate the success of their hometown team -- which on Wednesday night beat the San Francisco Giants to tie the World Series at one game apiece -- by designing the panties.
"We printed these underpants because our team is doing well after so many years and we were excited," Meister told FoxNews.com Thursday. "When we started posting them on social media, we were amazed at how many people wanted them."
[image]
"The first people to buy them were actually police officers," she said.
But the boom in sales of the Lucky Royals panties didn't last long.
"It all came crashing down on Tuesday when Homeland Security showed up and said we were committing a crime of copyright infringement," Meister said. "My initial response was fear. How often does Homeland Security show up to your panty shop?"
"Were we breaking the law? Major League Baseball apparently thought we were. Was it done maliciously? No," she said.
Major League Baseball spokesman Matt Bourne said counterfeit merchandise is a serious problem.
"We support [Homeland Security's] efforts to protect fans from purchasing counterfeit tickets and merchandise while protecting legitimate businesses that are authorized to conduct those activities," Bourne said.
U.S. Immigration and Customs Enforcement (ICE) spokesman Shawn Neudauer confirmed the incident to FoxNews.com, describing the raid by ICE's Homeland Security Investigations (HSI) agents as "routine law enforcement."
[pullquote]
Neudauer said the agents were able to identify the man who was making the prints for Birdies and showed up at his house, where the "screen print" was sitting on his table.
He said the agents learned about the panties through social media.
But, Neudauer said, "That's probably the least of what they did that day," stressing the agents were confiscating hundreds of counterfeit items throughout the state -- from T-Shirts to hats to fraudulent World Series tickets.
"We do this sort of thing all the time with major sporting events," he said.
Meister and Honig, who have owned the business for 12 years, said they don't know whether further action will be taken in their case.
"They said we cooperated, so it's unlikely," Meister said, noting the agents put the underwear in an official Homeland Security bag and asked them to sign a statement saying they would no longer use the logo.
Meister, in hindsight, described the incident as comical.
"These two tall, strong undercover officers had to stand there and count the panties," she giggled. "They didn't not seem to want to carry out their appointed task that day."
While knock-off merchandise might not seem to fall under the purview of Homeland Security, ICE says HSI plays a "leading role in targeting criminal organizations responsible for producing, smuggling and distributing counterfeit products."
The enforcement, while having nothing to do with immigration, apparently falls within the "customs" mandate of Immigration and Customs Enforcement.
Asked why counterfeit merchandise raids like this are handled by ICE, Neudauer explained that U.S. Customs investigators were placed within ICE when the Department of Homeland Security was formed in 2003. Those investigators have jurisdiction over hundreds of federal statutes, mostly involving customs-related issues. ICE also runs an intellectual property rights coordination center.
The Super Bowl is one well-known example of DHS's involvement in such counterfeit activities. DHS seized some $20 million worth of phony gear smuggled in from all over the world in the weeks leading up to the game last January.
FoxNews.com's Cristina Corbin and Judson Berger contributed to this report.