Kagan Defends Revising Medical Group's Statement on Partial-Birth Abortion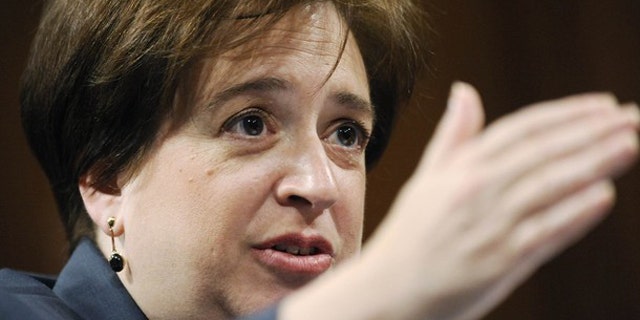 In a rare moment of drama in her confirmation hearings, Supreme Court Justice nominee Elena Kagan was forced to defend her revision of an obstetrician group's policy statement on partial-birth abortion while she was an adviser in the Clinton White House.
As a Republican-controlled Congress in the 1990s debated whether to ban the controversial procedure, Kagan wrote a memo in which she expressed concern about a statement that the American Congress of Obstetricians and Gynecologist was going to release that revealed its panel of experts found no circumstances in which the procedure was the only option for saving the life of the woman.
"This, of course, would be a disaster," she wrote.
Kagan revised the language so the final statement in 1997 said that the partial-birth abortion "may be the best and most appropriate procedure in particular circumstances to save the life or preserve the health of the woman."
Sen. Orrin Hatch, R-Utah, told Kagan on Wednesday "that's a very different spin and obviously a more politically useful spin."
"Your language played an enormous role in both legal and political fights over banning partial-birth abortion," he said. "The political objective of keeping partial-birth abortion legal appears to have trumped what a medical organization originally wrote and left to its own scientific inquiry and that they had concluded."
Congress passed a ban on the procedure twice in the 1990s but President Clinton vetoed it both times. The procedure was finally banned in 2003 when President Bush signed it into law. The Supreme Court upheld the nationwide ban in 2007 in a 5-4 ruling.
On Wednesday, Kagan disputed Hatch's version of the events, but admitted that she did speak with ACOG to revise the statement.
She also refused to take ownership over the memos advocating the less restrictive language.
"What I did was to advance the policy of the president," she said.
Kagan also said ACOG couldn't identify any circumstances in which the procedure was the only one that could be used in a given case but could find situations in which it was least riskiest procedure for women.
"There did come a time when we saw a draft statement that stated the first of these things which we knew ACOG to believe, but not the second, which we also knew ACOG to believe," she said. "And I had some discussions with ACOG about that draft.
"And so we knew that ACOG thought of both of these things," she said. "We informed President Clinton of that fact."
Kagan said the "disaster" would have been a statement that didn't reflect the group's two beliefs.
Hatch wasn't satisfied with her explanation.
"Well, I'll tell you this bothers me a lot because I know that there are plenty of doctors in ACOG who did not believe that partial-birth abortion was an essential procedure and who believed that it was really a brutal procedure and it was a constant conflict there," he said.
"That's something that does bother me because it would be a disaster, you wrote, because ACOG opposed the ban on partial-birth abortion. If anyone ever found out -- and you wrote that it could leak -- even if ACOG did not officially release its original statement, it could have negative political consequences," Hatch said.
Dr. Manny Alvarez, a Fox News contributor, said he was "disappointed" and "outraged" that Kagan would revise the group's statement, calling it "highly inappropriate."
"Here you have an operative at the White House influencing a society that should be independent," he said. "It's disappointing."
Alvarez said Kagan should have told the group to be balanced in its statement instead of allowing it to "plagiarize" her language.
"At the end of the day, they're not serving the American people correctly nor serving the medical community correctly."
Americans United for Life, a group that opposes abortion, expressed concern about Kagan's testimony.
"There are serious discrepancies between her statements to Sen. Hatch and the documented evidence of her actions in December 1996," Charmaine Yoest, president and chief executive of Americans United for Life.
Yoest said senators need to ask Kagan why she thought it was appropriate to interfere in the positions of medical organizations.
"Further, does the lack of any evidence of harm to a woman's health because of the unavailability of partial-birth abortion for the past three years affect her perspective on the issue?" she said. "Does Kagan still believe that partial-birth abortion is necessary to protect a woman's health? If so, what is her factual basis to support this?"