Jumping the gun? Holder, liberal activists gear up for Mueller firing with elaborate protest plans
Obama officials and liberal activists already are calling for organized protests to defend the "Republic" if President Trump fires Special Counsel Robert Mueller — even though the commander-in-chief says he has no plans to do so.
Republican frustration over Mueller's probe has indeed intensified in recent weeks amid allegations of bias on his investigative team. Complaints have focused lately on the disclosure of anti-Trump text messages between two former Mueller investigators.
But the burst of warnings about a Mueller firing -- which Trump denies -- stems in part from an unconfirmed rumor. Democratic California Rep. Jackie Speier claimed Friday that "the rumor on the Hill" was Trump would fire Mueller at the end of this week, after lawmakers leave D.C. for the recess.
"It would be a Saturday massacre – worse than that," Speier said on KQED Newsroom. "Without a doubt there will be an impeachment effort."
Eric Holder, former President Barack Obama's first attorney general, tweeted an all-caps warning that this would cross a "RED LINE" triggering demonstrations.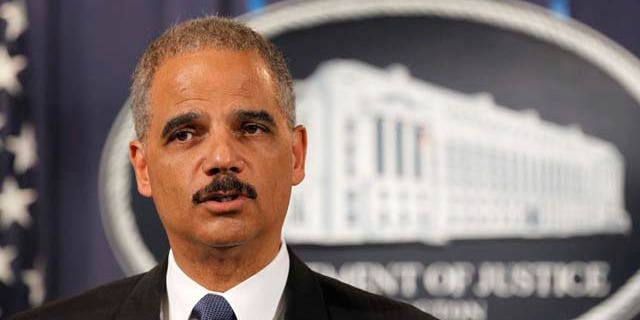 "ABSOLUTE RED LINE: the firing of Bob Mueller or crippling the special counsel's office. If removed or meaningfully tampered with, there must be mass, popular, peaceful support of both. The American people must be seen and heard – they will ultimately be determinative," Holder tweeted on Sunday.
Holder has been outspoken on the prospect of removing the special counsel, warning Republicans in Congress even before the Speier comment that any attempt at Mueller's removal "will not be tolerated."
"Speaking on behalf of the vast majority of the American people, Republicans in Congress be forewarned: any attempt to remove Bob Mueller will not be tolerated. These are BS attacks on him/his staff that are blatantly political–designed to hide the real wrongdoing. Country not party," Holder tweeted last Thursday.
Former White House ethics lawyer and director of the Office of Government Ethics Walter Shaub also said he is preparing to "take the streets."
"This weekend I'm stocking up on portable phone chargers, warm clothes, & gear needed for when we take the streets. I'm concerned the assault on the rule of law is coming over the holidays when we're distracted. It will be a defining moment for the Republic," Shaub tweeted Friday.
"Make a plan folks. Be ready to take the streets. This is an attack on our Republic," Shaub added, while also citing a GOP lawmaker calling for Mueller's firing.
Shaub tweeted that he had registered for a "rapid response protest" already being planned by MoveOn.org in the event of a Mueller firing. The event, "Nobody is above the Law II – Mueller Firing Rapid Response," is one of two Mueller-firing protests planned by the liberal advocacy group. A date is not set, but the group's website said it "will be updated to be within 24 hours of the firing, should it occur."
"This would be a constitutional crisis for our country," the event's website reads. "It would demand an immediate and unequivocal response to show that we will not tolerate abuse of power from Donald Trump."
But when asked Sunday if he planned to fire Mueller, the president said "no."
"No, I don't," Trump told reporters when he returned from his presidential retreat to Camp David.
Trump's legal counsel Ty Cobb said Saturday that "Mueller will not be fired."
MUELLER'S OFFICE DEFENDS INVESTIGATION AFTER TRUMP TEAM SLAMS EMAIL ACCESS
On Monday, former White House Communications Director Anthony Scaramucci – who only worked in the White House for 11 days – backed up those comments.
"I think [Trump is] probably frustrated by the process, and I think he knows in his heart that he didn't do anything wrong as it relates to Russia or that sort of stuff," Scaramucci said on "Fox & Friends" Monday. "He's certainly not going to fire Mueller, he's too smart to do something like that. He doesn't need another distraction on top of that distraction."
Over the weekend, though, the Trump team alleged that Mueller and his investigators improperly accessed emails from the transition team before the start of the administration -- a move that kept Trump's tensions with the Mueller probe in the headlines.
Peter Carr, a spokesman for Mueller's office, said in a statement: "When we have obtained emails in the course of our ongoing criminal investigation, we have secured either the account owner's consent or appropriate criminal process."