Judge deals blow to Ohio village's use of speeding traffic cameras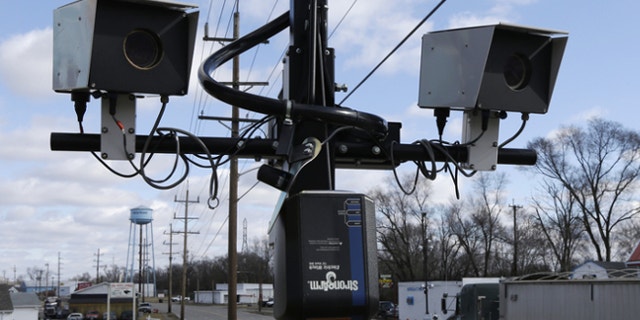 HAMILTON, Ohio – A judge Tuesday ordered a southwest Ohio village to stop using speeding cameras and said they're being used to violate motorists' rights to due process, in the latest ruling against automatic traffic enforcement around the state.
Butler County Common Pleas Judge Michael J. Sage also approved class action status, meaning thousands of drivers potentially could seek refunds from the village of New Miami.
It was estimated in court Tuesday that more than $1 million has been collected from more than 10,000 drivers, although some may have been ticketed multiple times. An attorney for the village said an appeal was likely. The village had contended it had the right under state law to use the cameras to ticket motorists, with a compelling interest for safety.
Questioning attorneys during more than two hours of legal arguments, Sage wondered aloud whether the speed camera system in the village, along a busy highway just outside this county seat city, was like taxing people for driving through. The cameras have been used for more than a year in the village of some 2,200 residents; the lawsuit charged that the system bypassed courts and made it difficult for motorists to challenge the $95 citations.
"The court has great concerns about due process in this case," Sage said, questioning the system's fairness. "This is a fundamental value in our system."
Motorists can challenge citations, but in an administrative system the judge said favors the village and police, which he said have "a vested interest" in collecting the revenues. Sage said he could reconsider his ruling if New Miami changed the speeding cameras system to allow motorists to challenge tickets in court.
Attorney Wil Weisenfelder said afterward he would confer with village officials about their plans. He had told the judge in court that more than half of the motorists who did challenge their tickets in the current system had them dismissed.
The village's attorneys wanted the judge to reject the claims or wait until the Ohio Supreme Court rules in a lawsuit pending before it challenging Toledo cameras. But attorney Josh Engel argued for the motorists that waiting on that case, which likely will take months more, would unfairly continue to subject people to an unconstitutional system in the meantime.
The New Miami lawsuit was filed last year in the aftermath of a ruling against speed camera use in neighboring Hamilton County. There, Judge Robert Ruehlman ordered a similarly sized village, Elmwood Place, to stop using cameras, calling them a scam against motorists. He also has ordered refunds of fines and fees, but pending an appellate court's ruling on his grant of class action.
Camera enforcement has been spreading nationally. Supporters say cameras stretch police resources and make communities safer. Opponents charge that they are revenue-raisers that violate constitutional rights.
Some Ohio legislators want to ban or restrict traffic cameras statewide, while legal challenges in at least five municipalities have been working their ways through courts, with recent appellate rulings against Cleveland and Toledo traffic cameras. The Ohio Supreme Court has previously upheld camera use in the city of Akron.