Jon Kyl named to succeed John McCain in the Senate
Former Republican senator Jon Kyl was named Tuesday to succeed the late Sen. John McCain, with the announcement coming at the start of confirmation hearings for Supreme Court nominee Brett Kavanaugh -- which could be the new senator's first big vote.
Arizona GOP Gov. Doug Ducey announced the selection via Twitter, while saying during a subsequent news conference that Arizonans needed a person who would be able to "hit the ground running."
"I am deeply grateful to Senator Kyl for agreeing to succeed his friend and colleague of so many years. Every single day that Jon Kyl represents #Arizona in the U.S. Senate is a day our state is well-served," he tweeted.
Kyl, 76, may be a short-term pick. He only committed Tuesday to fill the Senate seat until early next year out of a "sense of duty."
"I haven't been able to get that assurance from Kyl yet, what I have gotten is a commitment to serve Arizona through at least this session of Congress," Ducey told reporters, adding that he hoped that Kyl "serves longer."
Kyl told reporters he did not want to commit for a longer period because when he left his Senate seat previously he had no intention of returning.
"In that spirit I am certainly willing to serve through the end of this session," he said.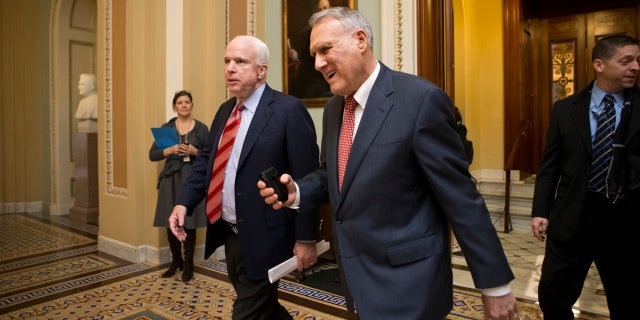 Voters in 2020 will get to decide who fills the remainder of McCain's term through 2022. Then the seat will be up again for a full six-year term.
McCain's widow Cindy McCain had revealed the choice in an earlier tweet, saying, "Jon Kyl is a dear friend of mine and John's. It's a great tribute to John that he is prepared to go back into public service to help the state of Arizona."
Kyl was the GOP whip for a number of years, and also served as Supreme Court nominee Brett Kavanaugh's escort or "sherpa," as the Senate sometimes calls it, taking Kavanaugh around to meet with senators.
He was absent at Kavanaugh's confirmation hearing on Tuesday, but Ducey told reporters that Kyl is ready to cast a vote after working with the White House for months on the Kavanaugh nomination.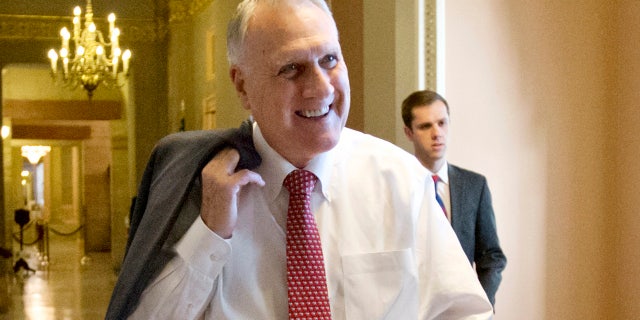 The political stakes are high since Kyl could participate in the vote on whether to confirm Kavanaugh to the U.S. Supreme Court, and will be rejoining the Senate at a time when Democrats are eager to take control of the chamber in this year's midterms.
A representative for Ducey told the Arizona Republic that if Kyl opted to step down at the end of the session, the Republican governor would have to appoint another replacement.
JOHN MCCAIN BURIED AT NAVAL ACADEMY NEXT TO LIFELONG FRIEND
Kyl retired in 2013 after becoming the No. 2 ranking Republican senator, and served alongside McCain during his 18 years in the Senate.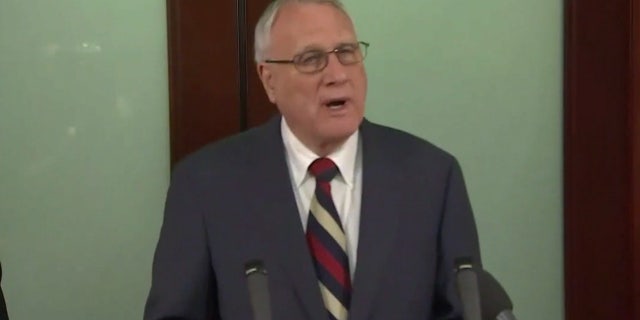 Filling McCain's seat marks a turning point in Arizona political history. That seat in particular has been held by two men who were heralded as giants of the Senate: McCain took the seat once held by Sen. Barry Goldwater after he had served in the House of Representatives.
Outgoing Sen. Jeff Flake, R-Ariz., called Kyl a "great pick" as McCain's replacement, and that it was Ducey's selection entirely.
"They worked together for eighteen years they served together so you know I think he'll fit right in and he obviously shared Senator McCain's view on most things and [is the] perfect, perfect guy to succeed him," Flake told Fox News.
McCain was buried on Sunday at the U.S. Naval Academy in a private ceremony, as per the wishes the Arizona Republican and 2008 presidential nominee who died Aug. 25 from brain cancer at age 81.
Fox News' Chad Pergram, Jason Donner, and The Associated Press contributed to this report.