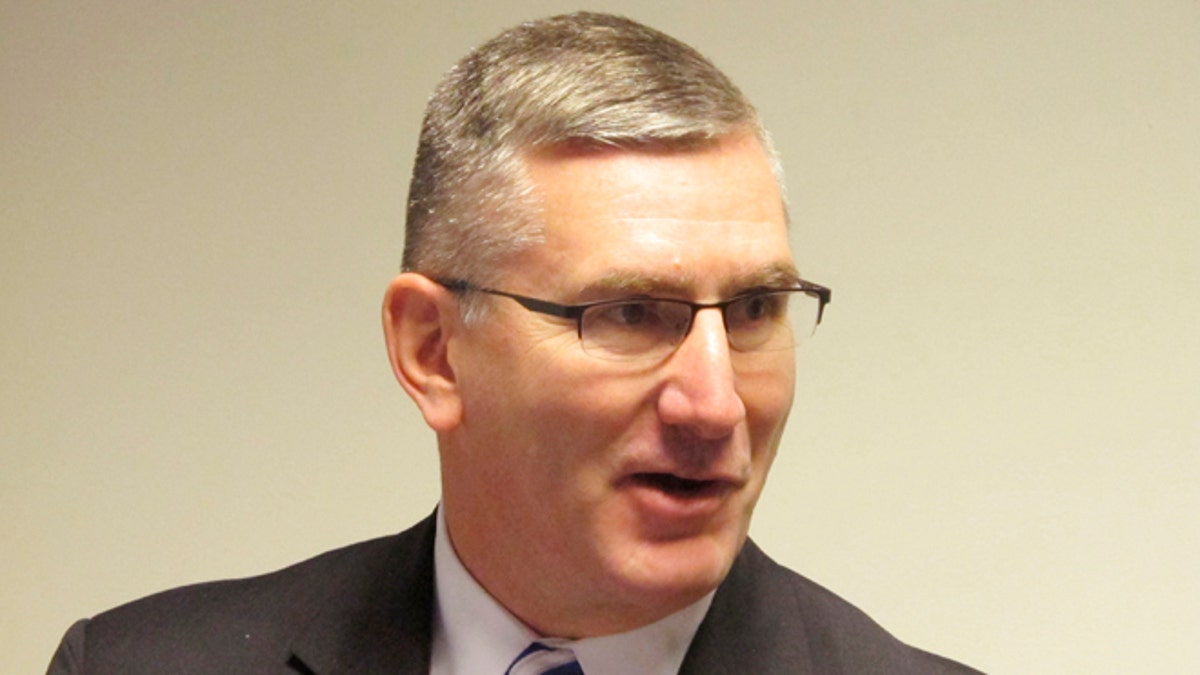 HELENA, Mont. – The talk in American Legion and Veterans of Foreign War halls and barrooms across Montana has been about Sen. John Walsh since the Democrat linked a cribbed research project he wrote in 2007 to post-traumatic stress disorder.
How those veteran voters respond means a lot to Walsh, who has built his election campaign for the Senate around his 33-year career in the National Guard and his proposals to help veterans and their families.
The reaction so far has been a mixed bag of condemnation, sympathy and shrugs.
"I think veterans feel for him," said Dave Mihalic, a Missoula resident, former U.S. Army captain and president of the Western Montana Military Officers Association. "There are core values, there are principles at stake. It's an unfortunate situation he finds himself in."
But is PTSD an excuse or a legitimate factor in the apparent plagiarism in Walsh's strategy research project written for the U.S. Army War College?
"I don't think we can determine that. It's the Army War College that has to determine that," Mihalic said.
The Carlisle, Pennsylvania, college has launched an investigation into revelations first reported by The New York Times that Walsh extensively used others' work without attribution in the project required for his master's degree.
When Walsh was at the college, he was less than two years removed from a deployment in Iraq. He said he was experiencing symptoms of post-traumatic stress disorder that included nightmares, anxiety and sleeplessness. He was seeing doctors and taking medication for those problems, which he said he has since worked through.
At the time, he said, his "head was not in a place very conducive to a classroom and academic environment."
"I don't want to blame my mistake on PTSD, but I do want to say it may have been a factor," Walsh told The Associated Press on Wednesday.
People who have been through a traumatic experience such as combat can experience post-traumatic stress immediately after the event or years later, according to the U.S. Department of Veterans Affairs. The symptoms include ones similar to those Walsh described, and they are treatable.
Walsh later repeated that he was not blaming PTSD for what he characterized as an "unintentional mistake" in the citations in his research project.
"In no way did any of that have anything to do with what I did at the Army War College," he told Yahoo News in an interview posted Friday.
But his initial statement riled some Montana veterans and elicited strong opinions, even if they didn't have a full grasp on the circumstances.
"That's the reason he cheated on a test? Give me a break. That's the limpest damn excuse I ever heard in my life. I don't buy that at all," Navy veteran Don Malsam said in a telephone interview from American Legion Post 4 in Billings.
Malsam acknowledged he was not a Walsh supporter even before the plagiarism allegations, but was adamant that they will seal Walsh's fate.
"I think he's done," he said.
Walsh had already faced a tough campaign in keeping the seat he was appointed to in February. His Republican challenger is U.S. Rep. Steve Daines.
Political analysts have said the plagiarism could be a setback for the former Montana adjutant general and lieutenant governor, but it's not clear whether it will stick in voters' minds in the November election.
Roy Savage, the adjutant at the Ole Beck Veterans of Foreign Wars Post 209 in Missoula, said it shouldn't. Savage, who also advocates for veterans and coordinates the Heroes Therapeutic Outreach Program, said the issue shouldn't overshadow what each candidate stands and fights for.
And even if Walsh did plagiarize his paper, Savage asked, so what?
"If he did it, you know, slap on the wrist," he said. "Who hasn't done it? I did it myself when I was in college and I was dealing with PTSD. Anybody who says they haven't done it is a liar."