Jerry Brown slams Trump, says California's 'not impressed' with 'lying' on immigration, crime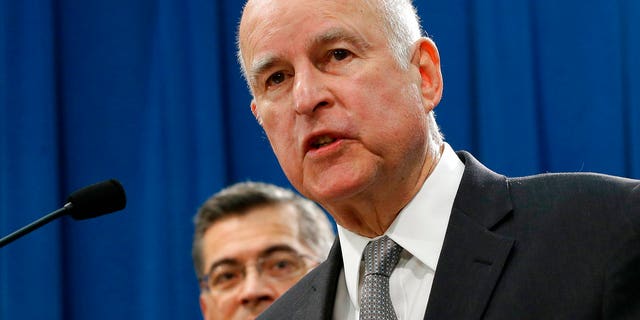 California Gov. Jerry Brown unleashed fury Wednesday in a series of tweets targeting President Trump, saying he was "not impressed" with the commander-in-chief's stance on sanctuary law and that he was "lying on immigration."
The Democratic leader's tweet storm comes the same day Trump held a roundtable discussion with California Republican lawmakers where he praised them for holding a "rebellion" against the state's sanctuary policies.
"Each of you has bravely resisted California's deadly and unconstitutional sanctuary state laws," Trump said at the White House. "You've gone through a lot, too, although it's become quite popular what you do."
Brown slammed the president's meeting saying "flying in a dozen Republican politicians to flatter him and praise his reckless policies changes nothing."
In mid-April, Brown deployed "up to 400" members of the National Guard "to combat" criminal activity within the state and at the U.S.-Mexico border.
However, the governor sent military personnel on the condition that "the California National Guard will not enforce immigration laws or participate in the construction of any new border barrier."
In March, Trump said he stood in "solidarity" with those pushing back against the state's sanctuary policies claiming the laws "release known dangerous criminals into communities across the state."
Fox News' Adam Shaw and Paulina Dedaj contributed to this report.