Jeb Bush says he hopes he would be a good 2016 GOP candidate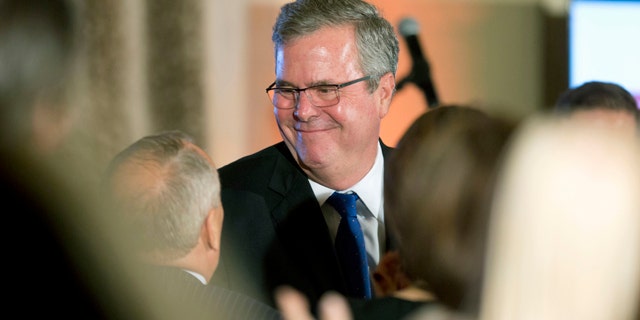 Former Florida Gov. Jeb Bush in a television interview Sunday said a decision is coming soon on whether or not he is going to run for president -- adding that he hopes he would be a good candidate -- while declaring the need to fix a "broken immigration system" in the U.S.
"I have no clue if I'd be a good candidate, I hope I would be," the Republican told ABC's Miami affiliate WPLG-TV. "I think I could serve well as president, to be honest with you. But I don't know that either. I think you learn these things as you go along."
Bush said he was in the process of writing an e-book about his time as governor and that it would come out in the spring. At about the same time, he will make public about 250,000 emails from his time in office, in an effort to promote transparency and to "let people make up their mind."
Bush said going through the material has reminded him that "if you run with big ideas and then you're true to those ideas, and get a chance to serve and implement them and do it with passion and conviction, you can move the needle. ... And that's what we need right now in America."
Bush also accused President Barack Obama of not listening to the American public.
"If he had he might have shifted gears a little bit in these off-year elections," he said.
Among reforms that the U.S. needs, Bush said "fixing a broken immigration system is critical."
"If we are going to be young and dynamic and aspirational, we have to control the border," he said. "Most people that come to this country come for their families, plain and simple. So, they break the law, there should be penalty -- they pay a fine, they should get back of the line, they should learn English, they shouldn't get government subsidies. They should work. All those things are the price to pay for coming illegally."
At the same time, Bush warned not to "ascribe evil motives for people wanting to put food on the table for their families."
"We've got to get beyond this harsh environment that we're in," he said. "If we just keep arguing amongst ourselves the net result is this country will ultimately this country will be in decline and our children and grandkids won't nearly have the same opportunities."
Meanwhile, Slater Bayliss, a longtime Florida-based Bush aide who helps lead a political action committee founded by Bush's sons, met with strategists in Iowa during a late November trip to his native state.
Former Iowa Republican Party Chairman Chuck Larson was among those who discussed with Bayliss the state's political trends, policy issues and how the state might react to a Bush campaign.
"If Jeb Bush decides to run for president, I believe he will be incredibly well received by conservatives in Iowa," Larson said.
Bush is scheduled to give the commencement address Monday at the University of South Carolina during his second visit in recent months to the state that's set to host the South's first presidential primary.
The same week Bayliss met with Iowa Republicans, Bush was named chairman and manager of a new private equity fund, BH Global Aviation. As first reported by Bloomberg, the offshore fund raised $61 million in September.
Bush's team described the investment as an expansion of an existing, and previously reported, private business, which he would review should he run. Most recent presidential candidates, including private equity investor Mitt Romney, formally cut ties with their business interests years before running.
Bush's announced moves will likely increase speculation about whether he, whose father and brother have already served as President, will declare his own candidacy for the White House. He would be the early favorite of the Republican establishment, although many conservatives criticize his positions on immigration and education.
Earlier this month, Bush told The Wall Street Journal CEO Council annual meeting that he was nearing a decision about whether he would run and said he would make up his mind "in short order."
"I don't know if I'd be a good candidate or bad," Bush said. "I know a Republican can win, whether it's me or somebody else."
Bush told the meeting that his priorities include an "all-in" energy policy that expands the use of the country's natural resources, a reduction in business regulations, a simpler tax code, an "economically driven" overhaul of the immigration system. He also urged Congress to make compromises to pass legislation and take the focus off trying to repeal the Affordable Care Act.
The Associated Press contributed to this report.