Jeb Bush donors reach out to Kasich-supporting super PAC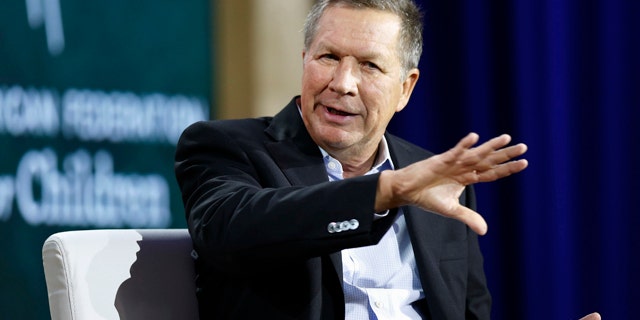 NEWYou can now listen to Fox News articles!
Ohio Gov. John Kasich's climb up the polls in the GOP presidential race has not gone unnoticed by supporters of former Florida Gov. Jeb Bush.
A spokesperson for New Day for America, the super PAC supporting Kasich, told Fox News late Wednesday that several Bush donors have been in contact with the organization in recent days. The spokesperson declined to elaborate how many donors had contacted the PAC or whether they had donated any money.
The apparent shift comes as Kasich has been collecting endorsements from several key Republican players. Earlier this week, Alabama Gov. Robert Bentley threw his support behind Kasich.
However, Kasich's greatest success has come in the early primary state of New Hampshire. Earlier Wednesday, he secured the endorsement of former New Hampshire Republican state legislators Doug and Stella Scamman, whose farm hosted Mitt Romney's 2012 presidential campaign launch. Other prominent Granite State GOP leaders to come out for Kasich include former RNC member Nancy Merrill, who co-chaired Sen. John McCain's New Hampshire campaigns in 2000 and 2008, and state Rep. Jack Flanagan, majority leader in the New Hampshire House of Representatives.
Voters appear to have taken notice of Kasich as well, despite his late entry into the race. A Boston Herald/Franklin Pierce University poll released earlier this month found Kasich in third place with 12 percent of the vote, just one percentage point behind Bush and six points behind leader Donald Trump.
A strong performance in the first Republican debate in his home state of Ohio appears to have helped Kasich as well. A Fox News poll published Sunday reveals that Kasich was tied with Ben Carson with the second-highest "net" performance score in the debate (+8), with the two trailing only Carly Fiorina (+12). However, in the Fox News national poll of GOP primary voters, Kasich came in a tie for seventh with just 4 percent of the vote, tied with Florida Sen. Marco Rubio.
Fox News' Jessica O'Hara contributed to this report.