Issa threatens contempt proceeding against Holder if Justice fails to comply with Fast and Furious subpoenas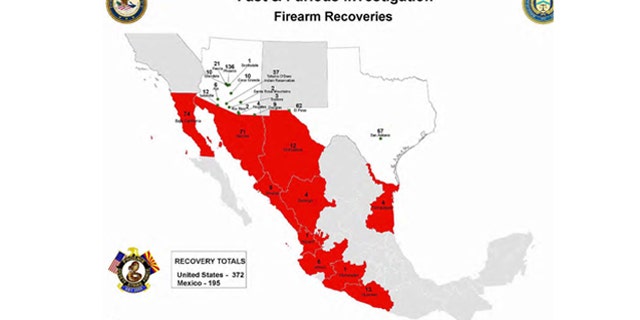 The head of the House Oversight and Government Reform Committee is threatening to hold Attorney General Eric Holder in contempt of Congress if he fails to comply with congressional subpoenas for documents.
Holder has until Feb. 9 to comply.
In a four-page letter to Holder, Committee Chairman Darrell Issa, R-Calif., claims the Department of Justice has "misrepresented facts and misled Congress," which began its investigation of Operation Fast and Furious one year ago.
Issa wrote that Holder's "actions lead us to conclude that the department is actively engaged in a cover-up" because it refuses to comply with previous subpoenas.
"If the department continues to obstruct the congressional inquiry by not providing documents and information, this committee will have no alternative but to move forward with proceedings to hold you in contempt of Congress," Issa warned in the letter.
Click here to read the letter.
Issa claims the Justice Department has stonewalled the congressional investigation of the gun-running scandal that sent some 2,000 weapons to the Mexican cartels with the assistance of the U.S. Bureau of Alcohol, Tobacco, Firearms and Explosives.
In December, Holder testified to the House Judiciary Committee that he understands Congress wants answers, and Justice Department employees were working "tirelessly to identify, locate and provide relevant information" to lawmakers "all while preserving the integrity of ongoing criminal investigations and prosecutions."
He added that documents provided to congressional investigators show that department personnel relied on information provided by supervisors in Arizona thought to be in the best position to relay those facts, but some of that information was later found to be "inaccurate."
"The documents produced to date also belie the remarkable notion that this operation was conceived by department leaders, as some have claimed," Holder said. "It is my understanding that department leaders were not informed about the inappropriate tactics employed in this operation until those tactics were made public and, as is customary, turned to those with supervisory responsibility over the operation in an effort to learn the facts."
Sen. Charles Grassley, R-Iowa, Issa's Senate counterpart in the inquiry, said Tuesday that the documents sent to Congress are not even 10 percent of those received at the inspector general's office, which Holder requested investigate the case last year. Grassley said Congress has only received 6,000 pages of documents while the department's inspector general has 80,000 documents in hand.
The department has yet to explain why it is "withholding each of those 74,000 pages," Grassley said in a statement that also addressed a Democratic minority report out of the House Oversight Committee on Tuesday that concluded Justice Department officials were not responsible for gunwalking.
Nothing coming from the Justice Department should be taken at face value, Grassley suggested, especially since Holder initially denied "gunwalking" had occurred but has since admitted to the operation.
"Documents turned over late Friday night indicate (Criminal Division chief Lanny Breuer) was still discussing plans to let guns cross the border with Mexican officials on the same day the department denied to me in writing that ATF would ever let guns walk," Grassley said.
"He stood mute as this administration fought tooth and nail to keep any of this information from coming out for a year. It will take a lot more than a knee-jerk defense from their political allies in Congress to restore public trust in the leadership of the Justice Department. The American people want to see those who failed to act be held accountable," he said.