In new 'Fast and Furious' report, Democrats clear Justice appointees of wrongdoing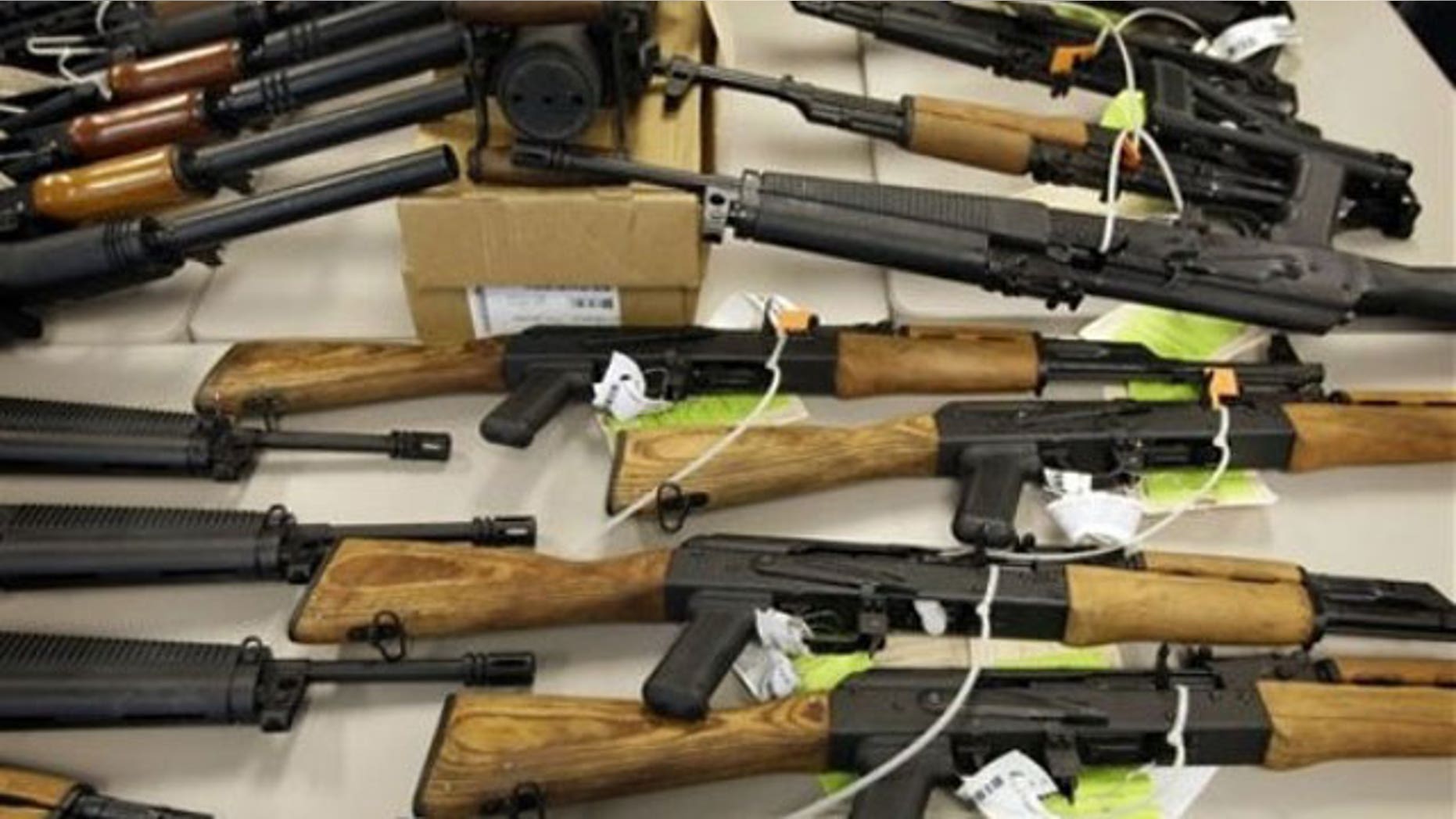 Democrats investigating the failed gun-running probe known as "Operation Fast and Furious" are laying the blame at the feet of officials in Arizona, saying in a new report that lawmakers from both sides of the aisle have "obtained no evidence" implicating high-level political appointees in Washington.
At the same time, the report reveals that two top Justice Department officials, in previously undisclosed interviews, insisted they would have taken action if they had the relevant details, and said it is "absurd" and unfair to suggest they knew early-on about the tactics of Fast and Furious.
Titled "Fatally Flawed: Five Years of Gunwalking in Arizona," much of the report is a historical overview of "gunwalking operations" dating back to 2006, and in a letter to Republicans accompanying the report, the ranking member of the House Oversight and Government Reform Committee, Rep. Elijah Cummings, D-Md., said he told his staff "to focus on the facts we have discovered rather than the heated and sometimes inaccurate rhetoric."
"It is clear that ATF agents in Phoenix and prosecutors in the Arizona U.S. Attorney's Office embarked on a deliberate strategy not to arrest suspected straw purchasers while they attempted to make larger cases against higher-level targets," the report reads.
"Although these officials claimed they had no probable cause to arrest any straw purchasers at the time, allowing hundreds of illegally purchased military-grade assault weapons to fall into the hands of violent drug cartels over the course of five years created an obvious and inexcusable threat to public safety on both sides of the border."
The report adds that problems arose during investigations even under the Bush administration, as hundreds of weapons were lost in Mexico, but "rather than halting operations after flaws became evident, (ATF agents in Arizona) launched several similarly reckless operations over the course of several years, also with tragic results."
The report comes two days before Attorney General Eric Holder is set to testify before the House Oversight and Government Reform Committee, and it also covers a series of recent interviews by congressional investigators of two high-ranking Justice Department officials.
Specifically, the report discloses that Holder's current chief of staff, Gary Grindler, met with investigators two weeks before Christmas and told them that, contrary to some allegations, he did not learn substantive details of "Fast and Furious" during a March 2010 briefing with ATF officials.
Grindler, who as acting deputy attorney general, was the department's No. 2 at the time of his briefing in March 2010, said he is "extraordinarily confident" the ATF officials who briefed him did not tell him firearms were being allowed to go to Mexico.
"That is just an absurd concept," Grindler told congressional investigators on Dec. 12, 2011, according to the new report. "If that had been told to me, I would not only have written something, but done something about it. ... I would have stopped it."
For much of the past year, the committee, led by Rep. Darrell Issa, R-Calif., has been investigating how "Fast and Furious" came to be and how two weapons tied to the program ended up at the murder scene of Border Patrol agent Brian Terry in December 2010. The majority has produced several reports from its investigation.
At issue are tactics used by investigators from the Bureau of Alcohol, Tobacco, Firearms and Explosives to target major gun-runners in Arizona. Launched in late 2009, "Fast and Furious" planned to follow gun purchasers in hopes that suspects would lead them to the heads of Mexican cartels. But ATF lost track of hundreds of high-powered weapons, and many of those guns surfaced at crime scenes in Mexico and the United States.
Previously released notes from the briefing show Grindler jotted down the name "Operation Fast and Furious." In addition, he was told that at least two suspects used cash to buy nearly 450 weapons costing tens of thousands of dollars, and he noted many guns bought in the United States were surfacing in Mexico.
Republicans have said that amount of information "should have raised red flags," as Sen. Charles Grassley, R-Iowa, put it during a November 2011 Senate hearing with Holder.
At the hearing, Grassley took issue with suggestions that Grindler was never told of "unacceptable tactics."
"If by unacceptable tactics you mean watching straw buyers illegally buy guns without seizing them before they get to Mexico, isn't that exactly what he was told?" Grassley asked Holder, who said he didn't know what Grindler was told.
On Tuesday, Grassley called the latest report laughable.
"The idea that senior political appointees have clean hands in these gun-walking scandals doesn't pass the laugh test, especially considering we've seen less than 10 percent of the pages that the Justice Department has provided the inspector general," Grassley said, referring to the internatl probe at Justice Department launched by Holder last year. "They ignored the warning signs and failed to put a stop to it or hold anyone accountable."
Meanwhile, Issa has previously suggested officials within the Justice Department's Criminal Division, such as Deputy Assistant Attorney General Jason Weinstein, could have done more to stop "Fast and Furious."
In a letter to Holder in October, Issa noted that Weinstein and others approved wiretap applications, which he said "contain rich detail of the reckless operations tactics being employed by your agents in Phoenix."
"Although (Criminal Division head Lanny) Breuer and his top deputies were informed of the operational details and tactics of 'Fast and Furious,' they did nothing to stop the program," Issa wrote.
But in his interview with congressional investigators, Weinstein called that "not a fair criticism," saying his general practice was to read an application's cover memo and only examine the underlying information if the cover letter raised questions or issues, according to the Democrats' new report.
"I first heard of possible gunwalking in 'Fast and Furious' when the whistleblower allegations were made public in early 2011," Weinstein told congressional investigators on Jan. 10, according to the report. "Had I known about gunwalking in 'Fast and Furious' before the allegations became public, I would have sounded the alarm about it."
As for Breuer, he testified at a Senate hearing in November 2011 that he also first learned of the tactics "when the public disclosure was made" by ATF agents early last year.
But days before the hearing, Breuer acknowledged he learned in April 2010 that ATF had launched a "gunwalking" investigation four years earlier called "Operation Wide Receiver," and after learning about it he directed Weinstein to bring their concerns to ATF leadership. Breuer has since said he regrets not having said anything to Holder or others within the department at the time.
During his recent interview with congressional investigators, Weinstein said he "reacted pretty strongly to" learning about "Wide Receiver."
"Had I seen anything at any time during the investigation of 'Fast and Furious' that raised the same concerns, I would have reacted," Weinstein told investigators, according to the new report. "And I would have reacted even more strongly because that would have meant it was still going on and that 'Wide Receiver' was not in fact an isolated incidence as I believed it to be."
Nevertheless, on Feb. 2, 2011, as Breuer was meeting with Mexican officials, the Criminal Division head "suggested allowing straw purchasers (to) cross into Mexico" so Mexican authorities can arrest and prosecute them, according to notes from the meeting released Friday night. But documents obtained by the House oversight panel don't indicate that any such action was ever taken, according to the Democrats' new report.