Issa: Explanation of Sestak Deal Is Bad Cover-Up of Crime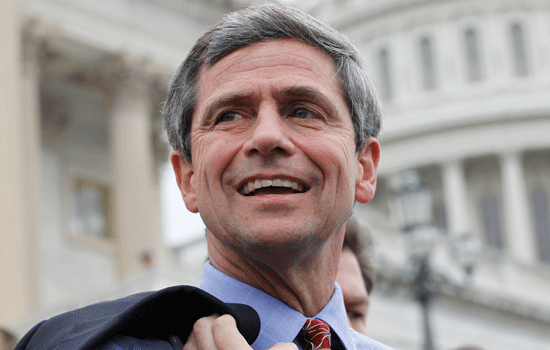 A California congressman who called it an "impeachable" offense for the administration to offer Rep. Joe Sestak a job in exchange for his quitting a Senate bid said Sunday the cover-up, as usual, appears worse than the crime.
Republican Rep. Darrell Issa said the explanation for the Sestak affair -- that former President Bill Clinton offered the Democratic congressman an unpaid position on an advisory board if he would drop his challenge against party-switching Pennsylvania Sen. Arlen Specter -- is not plausible because as a sitting congressman Sestak couldn't have served on a presidential commission.
"It's a crime because they've admitted that they offered this position ... So that begs the real question. Do we believe this is a further cover-up because he's -- they're now talking about a job that President Clinton himself should have known Sestak couldn't take? " he said.
"They're now coming up with a nonplausible answer," Issa said.
On Friday, the White House revealed that Obama Chief of Staff Rahm Emanuel had asked Clinton to talk to Sestak about a presidential appointment if Sestak would suspend his bid for the Democratic Senate nomination.
Sestak has said repeatedly since February that he was offered a job to drop out of the race, but he declined. He would not reveal the nature of the conversation until after the White House issued its report on Friday.
"If it's not a crime -- and I believe it is -- it certainly is business as usual, politics of corruption. The fact is once you're in power, if you can use our appointments, you can corrupt the process," Issa said.
Appearing with Issa on Sunday, Pennsylvania Gov. Ed Rendell said Obama has cleaned up Washington, but he didn't say "he was going to change every aspect of everything we've done."
"I think Barack Obama has brought a new level of ethical standards to Washington. Has he changed some basic hard-knuckle politics? No. You need hard-knuckle politics to succeed," Rendell said. "But he's not perfect. And there are certain things that have to go on to make things work, and this is one of them."
Rendell said offers of jobs for political cooperation have happened "for time immemorial."
"I did the same thing in 2006 to ask a former congressman, Joe Hoeffel, to drop out of the race against Bob Casey in the primary," Rendell said. "I said come back and see me if you do it. He came back and saw me, and he was out of public service. I appointed him as a deputy secretary of commerce. He did a great job."
Issa said the difference between Rendell's scenario and the White House action is that Rendell didn't have a specific offer in exchange in the deal, so therefore did not violate the U.S. law signed by then-President Clinton.

"Ed Rendell is saying this happens all the time. Sure, it happens all the time, things like this. But it's usually carefully crafted so it doesn't fall under this kind of quid pro quo," Issa said.
Issa said Sunday candidate Obama pledged to conduct a transparent administration so he should submit to an FBI review.
"The question is, has this been transparent? No. Has there been stalling? Yes. Is there a possibility that what we're being told now is not true because it's not so plausible? Yes. Should there be independent investigation so we can move on? Yes," Issa told "Fox News Sunday."
"I don't want to be investigating this. I don't want the White House investigating itself. The FBI or the attorney general should see that it's investigated so the American people can feel they can put this behind them," he said.
Issa added he would accept the result if an FBI investigation exonerates the White House of an illegal bribe.