Israelis, Palestinians to Resume Peace Talks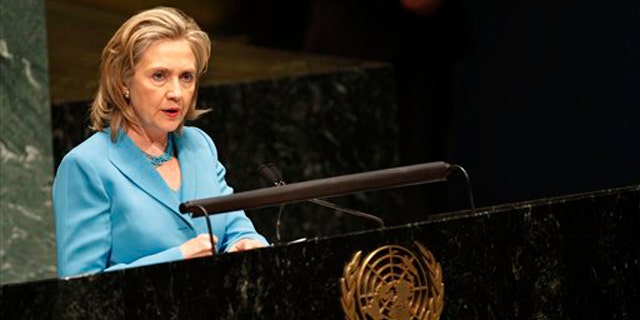 Israel and the Palestinian Authority, after months of resistance, will sit down next month for direct talks aimed at a "just and lasting peace," Secretary of State Hillary Clinton announced Friday.
Clinton said negotiations are set to begin Sept. 2 in Washington and could be completed within a year. Though peace talks have started and stopped for decades, U.S. officials hailed the announcement as a breakthrough and vowed to surmount the inevitable hurdles ahead.
"It is important that actions by all sides help to advance our effort, not hinder it. There have been difficulties in the past. There will be difficulties ahead," Clinton said. "The enemies of peace will keep trying to defeat us and derail these talks, but I ask the parties to persevere."
She described the talks as negotiations "to resolve all final-status issues." Among those invited are Israeli Prime Minister Benjamin Netanyahu and Palestinian President Mahmoud Abbas, as well as Egyptian President Hosni Mubarak, Jordan's King Abdullah II and former British Prime Minister Tony Blair.
The Obama administration has been pushing for a speedy resumption of face-to-face negotiations that broke down in December 2008. Special envoy George Mitchell has been shuttling between Netanyahu and Abbas for months in a bid to get them to agree.
The Palestinians had been balking at direct talks until the Quartet -- the U.S., U.N., European Union and Russia -- reaffirmed a March statement calling for a peace deal based on the pre-1967 Mideast war borders.
But Israel had rejected that, saying it amounted to placing conditions on the negotiations. Israel had been demanding a separate invitation from the U.S.
Mitchell compared the peace process to painting a house, with the priming process taking much longer than the paint job itself.
"Past efforts at peace that did not succeed cannot deter us from trying again," he said Friday.
Netanyahu's office then quickly issued a statement welcoming the plan.
"Reaching an agreement is a difficult challenge but is possible," it said. "We are coming to the talks with a genuine desire to reach a peace agreement between the two peoples that will protect Israel's national security interests, foremost of which is security."
Under the deal, the Quartet would call for talks that "lead to a settlement, negotiated between the parties, that ends the occupation which began in 1967 and results in the emergence of an independent, democratic, and viable Palestinian state living side by side in peace and security with Israel and its other neighbors."
A copy of the statement obtained by The Associated Press says the Quartet believes the talks "can be completed within one year."
The Associated Press contributed to this report.