Israel, Haley accuse UN of ignoring attacks by 'terrorist flaming swastika kites'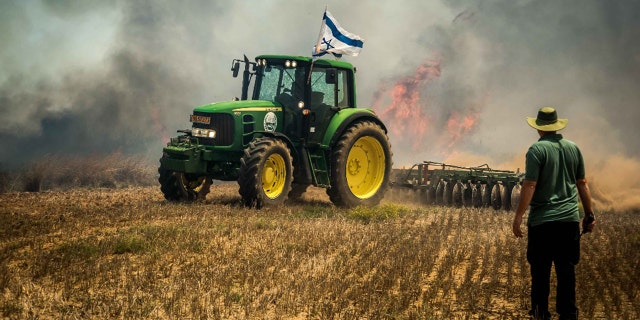 NEWYou can now listen to Fox News articles!
UNITED NATIONS – For months, Palestinian militants have been sending balloons and kites rigged with incendiary devices (some bearing swastikas) over the border from the Gaza Strip to Israel -- causing devastation to land, crops and livelihoods.

Now Israel is calling out the United Nations for allegedly ignoring such attacks as it focuses on Israel instead.

As part of a broader effort to bring attention to the attacks, Israel's Ambassador to the U.N. Danny Danon opened up an exhibit at U.N. headquarters showing the devastation from the recent attacks.
"We follow very carefully what's happening in Israel, and unfortunately people don't get it at the U.N. when we speak about the fact they have more than 7,000 acres that have been set on fire -- that's half the size of Manhattan," Danon told Fox News on Thursday.
'They have more than 7,000 acres that have been set on fire -- that's half the size of Manhattan.'
Israel says more than 700 fires have been caused by the attacks, resulting in millions of dollars in damage to farms and businesses. One recent balloon landed in the yard of a kindergarten, though there were no injuries.

The images on display at the U.N., captured by local photographers, include one of a tractor surrounded by flames as a farmer watches his crops go up in smoke.

But while the U.N. waxes lyrical about environmental protection and the importance of conservation, food security and non-violence, Danon says key bodies have been silent on this issue.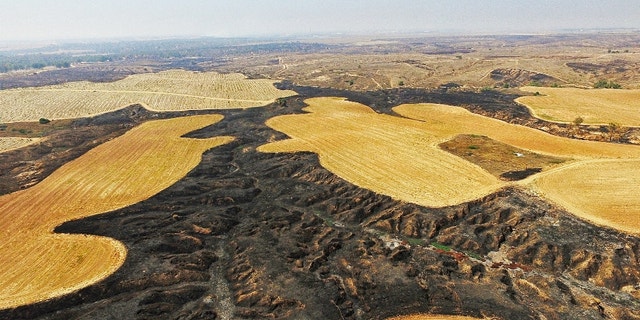 "No one will speak about it. That's what I feel in the Security Council, in the General Assembly, so we set up this exhibition here to allow ambassadors to understand it," Danon said, adding that he asks ambassadors who visit what they would do if 7,000 acres of their homeland were set on fire by terrorists.

"I ask them, 'What would you do if this happened in your country?'"

Danon also noted the presence of a large sign outside the exhibit: "The holding of the exhibit in U.N. premises does not imply endorsement by the United Nations."

Farhan Haq, a spokesman for Secretary-General Antonio Guterres, told Fox News that the U.N. Deputy Secretary General Amina Mohamed had received a letter about the subject from Israel, and that U.N. Special Coordinator for the Middle East Peace Process Nickolay Mladenov has visited Gaza and called for such attacks to cease.
Guterres has also called on "Hamas and other Palestinian militants to cease the launching of rockets and incendiary kites and provocations" but also urged Israel to "exercise restraint to avoid further inflaming the situation."

Both Israel and the U.S. have been ramping up pressure on the international body to rid itself of anti-Israel bias and call out terrorist acts by groups like Hamas and Hezbollah by name. With Ambassador Nikki Haley taking the reins at the U.S. mission last year, combating anti-Israel bias has become a top U.S. priority.

The U.S. has in recent months pulled out of the Human Rights Council and slashed funding to the U.N. Palestinian refugee agency (UNRWA). Last month, Haley blasted Arab countries who make anti-Israel speeches but don't commit funding to help the Palestinian cause.

"If those words were useful in the schools, the hospitals, and the streets of their communities, the Palestinian people would not be facing the desperate conditions we are discussing here today," she said on the floor of the Security Council. "But talk is cheap."

Haley also mentioned what she called the "terrorist flaming swastika kites" and said: "If it was happening to any of our countries, there would be quite a lot of discussion on it."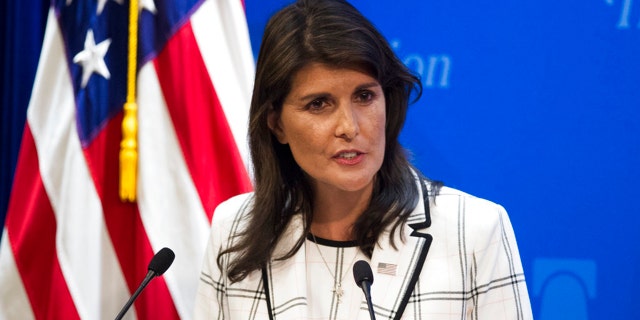 The U.S. and Israel have been attempting a new tactic at the U.N., namely inserting language into anti-Israel resolutions that directly condemns Hamas. This had some success in a recent motion on the floor of the General Assembly, where an amendment condemning Hamas picked up a slim 62-58 majority.
HALEY PRESSURES ARAB STATES TO STEP UP ON PALESTINIAN AID: 'WE ARE NOT FOOLS'

"My team together with Ambassador Haley and her team, we will insist on that. When you need to name Hezbollah you will name Hezbollah, even if we vote on it and lose it, we will insist on that. Same with Hamas, so you cannot say we condemn acts of violence without saying who is responsible for that," Danon said.

While other motions have failed, Danon said he has a good relationship with Haley, as well as an open dialogue with Guterres, and there are signs of a paradigm shift at the U.N.

"I think we are successful in changing the rules of the game ... and we are starting to feel that change," he said.

Fox News' Ben Evansky contributed to this report.