Islamic State backers emerge in Afghanistan, ex-Guantanamo inmate reportedly recruiting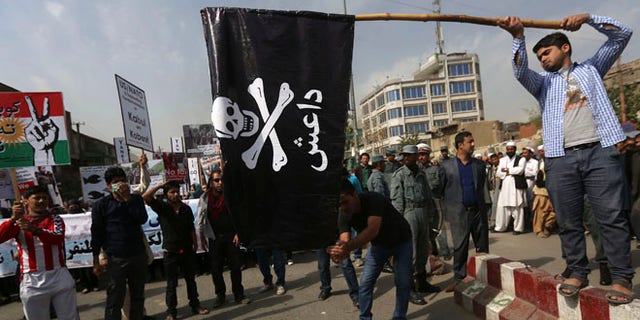 NEWYou can now listen to Fox News articles!
The Islamic State terror group may be making inroads in Afghanistan just weeks after the U.S. ended its 13-year combat mission, with a former Guantanamo Bay detainee said to be involved in the recruiting effort.
The recruiter has been identified in Afghanistan's southern Helmand province as Mullah Abdul Rauf, a former Taliban commander released from Guantanamo in 2007, under the George W. Bush administration.
"People are saying that he has raised black flags and even has tried to bring down white Taliban flags in some areas," Saifullah Sanginwal, a tribal leader in Sangin district, recently told The Associated Press.
The troubling reports follow warnings from Republican lawmakers that drawing down too quickly in Afghanistan could leave the country vulnerable, just like in Iraq where the Islamic State trampled a string of northern villages and cities after the U.S. withdrawal. While the U.S. has since returned to Iraq to bolster that country's fight against the powerful terror network, the Islamic State -- or ISIS -- reportedly has expanded its territory in next-door Syria despite a U.S. bombing campaign there.
An emergence in volatile Afghanistan would pose another major security challenge for the U.S.
But while the Obama administration has acknowledged signs of Islamic State allegiance, or at least sympathy, in the country, officials say they have no solid evidence that Afghan residents have joined the Islamic State.
"We've seen the rhetorical messages of support" in southern Afghanistan, State Department spokeswoman Marie Harf told reporters recently. "We continue to watch for signs that these statements could amount to something more than just rhetorical support. … We'll continue watching."
Rauf is targeting disaffected Taliban fighters and reportedly offering them $500 a month. But such efforts will be difficult, considering the Taliban's 20-year stronghold in Afghanistan, particularly in the southern provinces.
Sanginwal said he's heard reports that 19 or 20 people have been killed in fighting between the Taliban and Islamic State.
Analysts say most claims of allegiance to the Islamic State in Afghanistan have been motivated by opportunism and that any new jihadist group would have difficulty establishing itself amid already long-established militant groups with tribal links.
In addition, the Taliban does not espouse the Islamic model of jihad embraced by the Islamic State.
On Capitol Hill, Arizona GOP Sen. John McCain, chairman of the Senate Armed Services Committee, repeatedly has warned about the potential for terror groups to reemerge in Afghanistan. And he has been critical of President Obama's effort to release additional Guantanamo detainees with terror ties.
"The administration seems to be embarked on a strategy to empty Guantanamo while disregarding the security concerns many have raised about releasing detainees, including recent transfers to Yemen," McCain spokesman Dustin Walker told FoxNews.com on Monday, when asked about the developments in Afghanistan.
He also cited published reports about outgoing Defense Secretary Chuck Hagel's reluctance to sign off on certain detainee releases, for such reasons, being a major factor in his worsening relationship with the White House.
"It is not fair to our military service members to once again confront terrorists on the battlefield they had already captured," Walker said.
Aside from some supporters in Afghanistan, the Islamic State -- with its territorial gains and slick online propaganda -- has also caught the attention of disenchanted extremists in remote parts of Pakistan.
Pakistan Interior Minister Chaudhry Nisar Ali Khan said in November there was no Islamic State group presence, only militants using its name.
However, a government letter written a month earlier and obtained by The Associated Press warns that the Islamic State has begun courting area militants and claims support from as many as 12,000 followers in the country's northwest region.
And online video recently was released by the Islamic State showing a former Pakistani Taliban spokesman pledging his support with more than a dozen others, before beheading a man they identified as a soldier.
Analysts and officials say the number of Islamic State supporters in the Afghanistan-Pakistan region remains small but the rise of even a small affiliate could further destabilize the region and complicate U.S. and NATO efforts to end the 13-year Afghanistan war.
Smaller militant groups in Libya, Egypt, Lebanon and elsewhere have pledged allegiance to Islamic State leader and self-proclaimed caliph Abu Bakr al-Baghdadi.
Rauf served in the Taliban from 1996-2001 in Afghanistan and was captured after the U.S.-led invasion of that country.
A 2004 Defense Department report states Rauf claimed to be a low-level Taliban foot solider but was closely associated with top commanders and "manages to exhibit leadership qualities by conducting speeches and instilling fear into those who cooperate" with prison personnel.
And as a result, his intelligence value was upgraded from low to medium.
Rauf's activities in Afghanistan also have been corroborated by Afghan military Gen. Mahmood Khan.
"A number of tribal leaders, jihadi commanders and some ulema (religious council members) and other people have contacted me to tell me that Mullah Rauf had contacted them and invited them to join him," he said.
The Associated Press contributed to this report.