Iowa GOP officials cancel straw poll after candidate snubs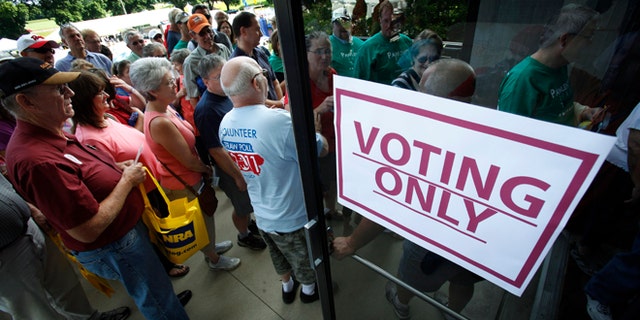 NEWYou can now listen to Fox News articles!
Republican Party officials in Iowa have voted to cancel the decades-old Iowa Straw Poll, amid waning interest from GOP presidential candidates.
Jeff Kaufmann, chairman of the Republican Party of Iowa's State Central Committee, said in a statement: "I've said since December that we would only hold a straw poll if the candidates wanted one, and this year that is just not the case."
The straw poll was scheduled to be held in the central Iowa city of Boone on Aug. 8.
The Iowa straw poll has been lauded by conservative activists in the state for decades but in recent years hasn't been widely embraced by GOP candidates both inside and outside the state. At least three of the 2016 Republican presidential hopefuls -- former Florida Gov. Jeb Bush, Florida Sen. Marco Rubio and former Arkansas Gov. Mike Huckabee -- had said they'd skip the straw poll this year.
GOP officials wanted to make sure negativity surrounding the straw poll didn't hurt Iowa's traditional place in holding the first contest of the presidential nomination season, with its leadoff caucuses.
Kauffman said that scrapping the straw poll was necessary to strengthen Iowa's first-in-the-nation status "and ensure our future nominee has the best chance possible to take back the White House in 2016."
The Iowa poll has been held every election cycle since 1979 without a Republican incumbent in the White House. Initially used to gauge a candidate's electability, the event has grown into a carnival-like setting where candidates spent thousands to bus in and entertain supporters. Critics say the setting has become a costly sideshow, and many candidates fear the humiliation of a poor showing.
In the six polls conducted since its first year, the winner has gone on to win the state caucuses three times. The eventual Republican nominee has won the poll only twice.
In 2011, about 17,000 people turned out for the poll – a far cry from the 120,000 who voted in the January 2012 caucuses.
That year, candidate Michele Bachmann spent $2 million on the straw poll and won but was easily beat in the primary by Mitt Romney, the eventual GOP presidential nominee. Romney did not participate in the straw poll.
The Associated Press contributed to this report.