Iowa Bill Could Compel Gun Carriers to Take Breathalyzer or Lose Permit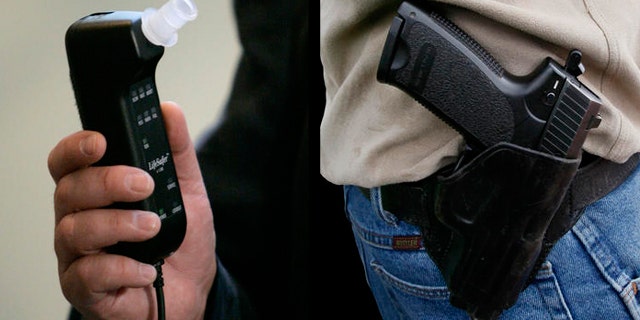 NEWYou can now listen to Fox News articles!
A new bill advancing through the Iowa Senate would compel gun owners to take a breathalyzer test if an officer suspects they're intoxicated while armed.
Under the proposal, anyone who declines would automatically forfeit their firearm permit.
The provision is one of several restrictions included in a bill that would update Iowa's gun ownership laws. It's meant to make the consequences for drinking and carrying a firearm similar to the consequences for drinking and driving.
Under current law, gun owners already risk losing their permit if they are found carrying a gun while intoxicated -- much like motorists risk losing their license if they're caught driving drunk. But the current law does not let police officers compel gun owners to take the blood-alcohol content test.
Sen. Rob Hogg described the new proposal as an extra enforcement tool. Without this authority, he warned, officers would have trouble proving a suspect was intoxicated.
"It's very difficult to enforce that because you can't force somebody to ... do a breathalyzer," Hogg said.
The proposal would also require new gun owners to receive training on a firearms range, while dropping a requirement that gun owners renewing their permit seek the same training.
The Iowa Firearms Coalition has voiced opposition to the bill, particularly a provision that would prohibit prospective gun owners from fulfilling their training requirement with online classes. One Coalition board member told The Gazette in Cedar Rapids the bill contained "a lot of solutions looking for problems."
But lawmakers, who approved the bill in the Senate Judiciary Committee on Monday, watered down the proposal a bit. They took out a provision that would have prohibited anyone carrying a gun from entering a bar.
Democratic Sen. Gene Fraise, the bill's sponsor, continued to express concern about the possibility of alcohol-fueled bar fights, but said individual bars already have the right to ban weapons on their property.
"The people who run their own business have a right to deny guns" on their property, he said.
The new proposals come after the Iowa Legislature last year approved a law requiring sheriffs to issue a firearm permit to those who qualify.