Intel chief: Al Qaeda hurting, Iran 'more willing' to launch attacks in U.S.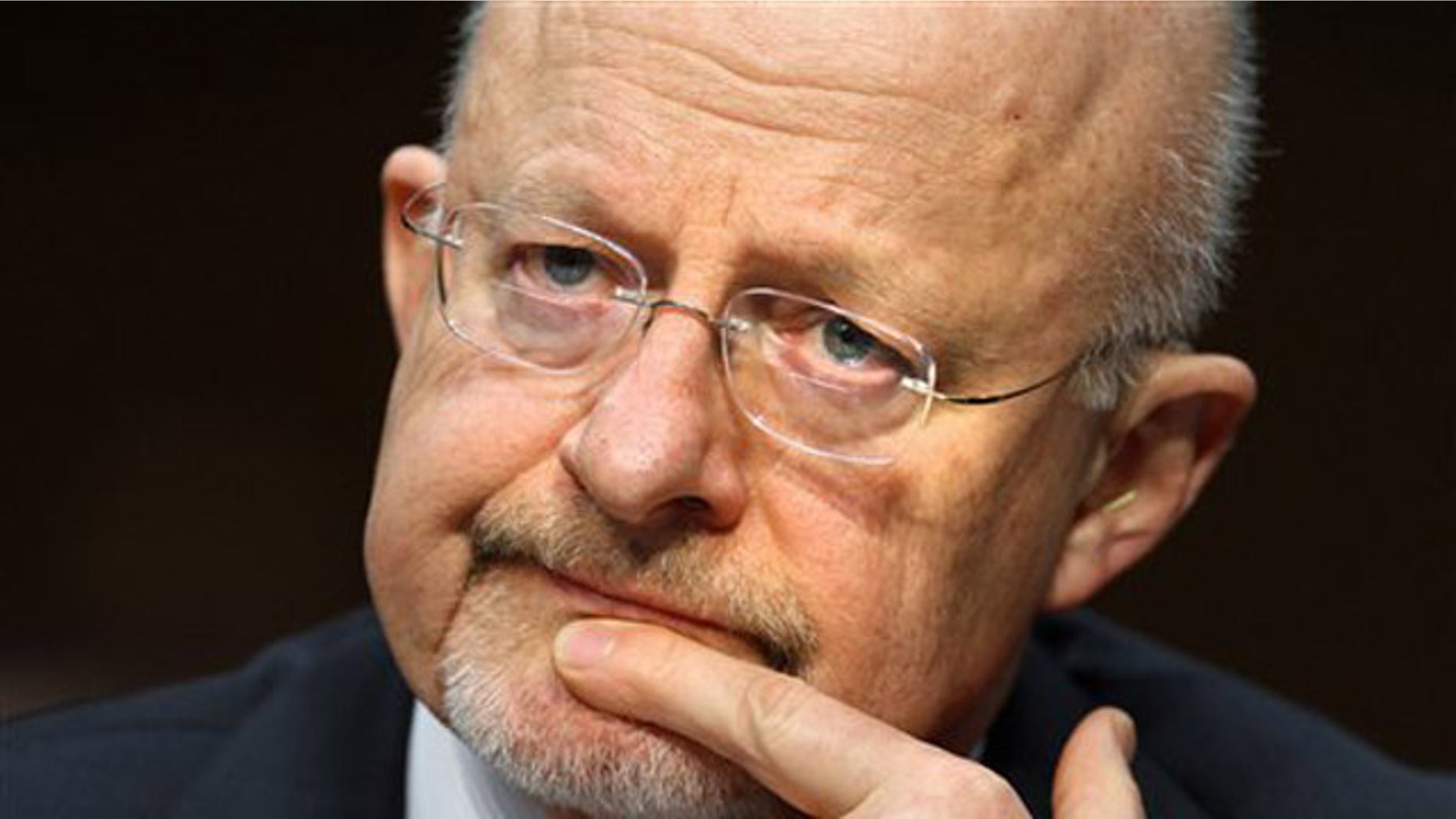 An emboldened Iran is "now more willing" to launch an attack inside the United States, America's top intelligence official told Congress Tuesday, adding that the global threat posed by Al Qaeda's central leadership has been diminished.
Director of National Intelligence James Clapper outlined what he described as a "critical transition phase for the terrorist threat" in testimony before the Senate Intelligence Committee. With Usama bin Laden and many of his former deputies dead, Clapper said the group's leadership is thinned, its capabilities "degraded" and its focus on "smaller, simpler plots."
"Al Qaeda core's ability to perform has weakened significantly," he said.
At the same time, Clapper described the threat from Iran as one on the upswing. In a lengthy document submitted to Congress, Clapper said last year's alleged Iran-backed plot to assassinate the Saudi ambassador to the U.S. "shows that some Iranian officials -- probably including Supreme Leader Ali Khamenei -- have changed their calculus and are now more willing to conduct an attack in the United States in response to real or perceived U.S. actions that threaten the regime."
He said the intelligence community is also concerned "about Iranian plotting against U.S. or allied interests overseas."
Clapper described Iran as undecided, perhaps conflicted, about its next move -- and weighing its options based not on ideology but a cold-eyed assessment of whether more aggression would be good, or bad, for Iran.
He said Iran's willingness to sponsor attacks in the U.S. and elsewhere "probably will be shaped by Tehran's evaluation of the costs it bears for the plot against the ambassador as well as Iranian leaders' perceptions of U.S. threats against the regime."
His assessment of Iran's nuclear program was virtually identical.
Asked whether Iran has decided to pursue a nuclear weapon, Clapper said he does not think they have.
"But they are certainly moving on that path," he added. "But we don't believe they've actually made the decision to go ahead with a nuclear weapon."
Clapper said that decision would be based on a "cost-benefit analysis" by Khamenei, "and the extent to which he thinks that would benefit the state of Iran, or conversely not benefit."
The Iranian regime has opened its country up to nuclear inspectors, though it is unclear what Iran's intentions are after a rash of heightened rhetoric from top Iranian officials.
Iran's foreign minister on Monday reportedly offered to let United Nations inspectors extend their stay in the country.
Oman's ruler, Sultan Qaboos bin Said, exclusively told Fox News that Iran is seeking a way out of U.S.-led sanctions against the country. The sultan, who has acted as an intermediary with Iran, said the country understands that returning to talks with the U.S. and other key nations will ease pressure on Tehran.
Richard Grenell, a former U.S. spokesman at the United Nations under the George W. Bush administration, told Fox News the Saudi ambassador plot was an attempt by Iran to "intimidate the international community." He said sustained sanctions against the regime are "clearly not working," and speculated that military action would be needed to curb the country's nuclear ambitions.
While declining to hazard a guess on what Iran's ultimate decision will be pertaining to its nuclear program, Clapper said a "key indicator" would be if Iran starts to enrich uranium to 90 percent. He said Iran is "well capable" of producing highly enriched uranium for a weapon if it chooses to.
Lt. Gen. Ronald Burgess Jr., director of the Defense Intelligence Agency, also said that the Iranians "have the capability, we assess, to temporarily close" the Strait of Hormuz. Iranian officials recently have threatened to close the key oil passageway. Burgess said the "concern" is over how long Iran would sustain that closure.
As for Al Qaeda, Clapper said bin Laden's death deprived global jihadists of their "most iconic and inspirational leader."
The new leader, Ayman al-Zawahiri, is "less charismatic," he said.
In the document presented to Congress, Clapper also said that the ability of Al Qaeda's core leadership "has weakened significantly." With sustained pressure, he said, "we anticipate that core Al Qaeda will suffer sustained degradation, diminished cohesion and decreasing influence in the coming year."
However, Clapper said Al Qaeda remains a threat. While the core will be of "symbolic importance" to the movement, he said Tuesday, the affiliates will "drive the global jihad agenda."
Several of these affiliates, like Al Shabaab in Somalia, are focused mostly on fighting in their own countries, and not on global jihad. But he said in his written assessment that Al Qaeda in the Arabian Peninsula is the affiliate "most likely to attempt transnational attacks" -- despite the death of the American cleric Anwar al-Awlaki.
Clapper said Awlaki's death "probably reduces, at least temporarily," AQAP's ability to execute global attacks. "But many of those responsible for implementing plots, including bombmakers, financiers and facilitators, remain and could advance plots," he said.
Clapper also said the threat from homegrown extremists in the near term will mostly come from "lone actors" and small groups inspired by, but not formally affiliated with, Al Qaeda ideology.