Indicted Indian envoy accused of lying about maid's pay leaves US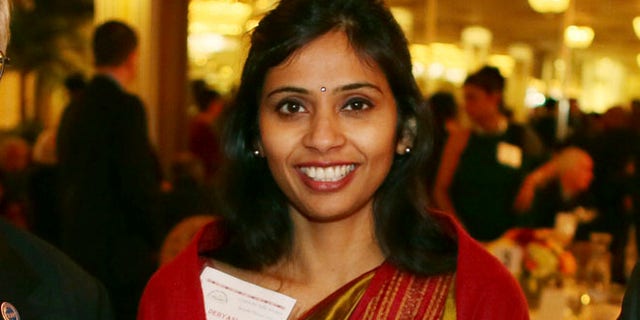 The Indian envoy accused of lying about how much she paid her housekeeper was indicted on criminal counts Thursday but left the U.S. after being given clearance by the State Department and a federal court, authorities said.
Devyani Khobragade was indicted earlier Thursday on two counts, of visa fraud and making false statements, and later left the country by plane, a senior U.S. official said.
Earlier in the day there had been some confusion as to the envoy's whereabouts. U.S. Attorney Preet Bharara initially said Khobragade had already left the U.S. after being granted diplomatic immunity. But her lawyer, Daniel Arshack, said shortly afterward that she was still in New York.
Arshack later told FoxNews.com, "as a result of her diplomatic status having been recognized, the Federal court today recognized Dr. Khobragade's right to travel and she is pleased to be returning to her country. Her head is held high."
Bharara's office said in an earlier statement that the State Department requested Khobragade's departure.
Arshack called Bharara's initial statement that Khobragade had left "emblematic of the series of blunders which has contributed to the false charges brought against her."
He added, "we are pleased that the United States Department of State did the right thing today by recognizing the diplomatic status to which Dr. Khobragade has always been entitled."
However, it appeared that while Khobragade's diplomatic immunity protected her from prosecution, the indictment could prevent her from returning to the U.S.
Her father said in a televised news conference Friday that she had been vindicated.
"Devyani left U.S. soil with full diplomatic immunity, vindicating the stance that whatever dispute has been raised in the U.S. is a prerogative of the sovereign country of India," said her father, Uttam Khobragade, a retired bureaucrat.
The developments indicate the Obama administration is trying to find a resolution to ease diplomatic tensions between the U.S. and India, despite the federal allegations against Khobragade.
The diplomat, who was working in New York, was arrested last month, accused of underpaying her housekeeper and illegally concealing it.
The Indian government, though, claimed she was subjected to inappropriate and rough treatment, and retaliated on several fronts against the U.S. -- including by hauling away security barriers outside the U.S. Embassy in New Delhi.
Bharara has defended the U.S. government's handling of the case.
Khobragade was indicted Thursday by a federal grand jury in Manhattan.The indictment said Khobragade had made multiple false representations to U.S. authorities, or caused them to be made, to obtain a visa for a personal domestic worker. She planned to bring to worker the United States in September 2012 when she worked at the Consulate General of India in New York, according to the indictment.
Khobragade, 39, India's deputy consul general in New York, has maintained her innocence to accusations that she claimed to pay her Indian maid $4,500 per month but actually gave her far less than the U.S. minimum wage. Her arrest last month sparked outrage in India after revelations that she was strip-searched and thrown in a cell with other criminal defendants before being released on $250,000 bail.
The Associated Press contributed to this report.