Incoming senators talk compromise on jobs, immigration but partisan divide still an issue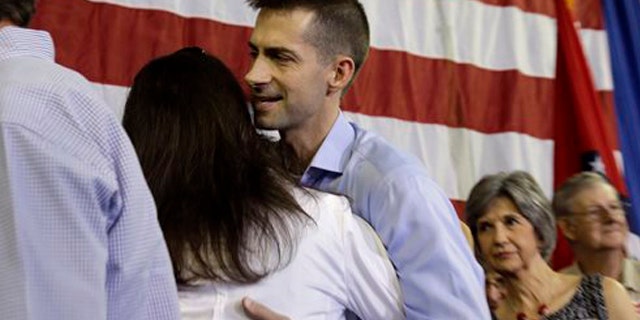 Newly-elected senators from both parties agreed Sunday on several issues facing the incoming Congress, including job creation and the passage of immigration-reform legislation, but also hinted that elusive bipartisan compromise will be difficult to attain.
Arkansas GOP Rep. Tom Cotton, elected in November to the Senate, said the House wants to pass an immigration reform bill, just as the Democrat-controlled Senate did last year. However, the lower chamber's bill will likely be different.
"I think we should pass a bill that addresses our problems," Cotton told NBC's "Meet the Press."
He said the priorities in a House version would be border security and enforcing existing laws on people living illegally in the United States.
Cotton also repeated his concern that Middle East terror groups could be trying to cross through security gaps in the U.S.-Mexico border.
The House faces increasing pressure to pass a bill to override the executive action President Obama took earlier this month on immigration reform.
Incoming Sens. Thom Tillis, R-N.C., and Gary Peters, D-Mich., also agreed that their parties should work together to create more and better-paying jobs for Americans and to bring overseas manufacturing jobs back to the U.S.
"I think there are a number of opportunities for Republicans and Democrats to work together," Tillis told CBS's "Meet the Press."
Peters agreed, adding that "I'm sure we can find ways to get people back to work and … find common ground."
Still, their remarks, though perhaps unintended, suggested the continuing divide that frustrates Americans.
Tillis said Obama needs to find "consensus" for administration nominees, including those for the open posts of U.S. attorney general and Defense secretary, that work for "both ends of Pennsylvania Avenue," meaning the White House and Congress.
He said Congress has failed on immigration reform but agreed with Cotton that border security comes first and argued that Obama's executive actions could "set us back."
Peters, the only Democrat newly elected to the Senate in November, called Congress' inaction on the issue a "constant frustration."
"Congress needs to act, instead of wringing our hands about the presidential action," he said. "We have a bill that's been on the table for a year-and-a-half in the House. I believe that if the speaker would put it on the floor, it would actually pass. … If my Republican friends want to work in a bipartisan way and find common ground, we're already almost there."
Tillis also suggested voters dumping some incumbents during the midterms and giving Republicans control of the Senate was not a mandate to change or compromise, only a "chance" in part to "work across the aisle."