Virginia Democrat Jennifer Wexton ousts Rep. Barbara Comstock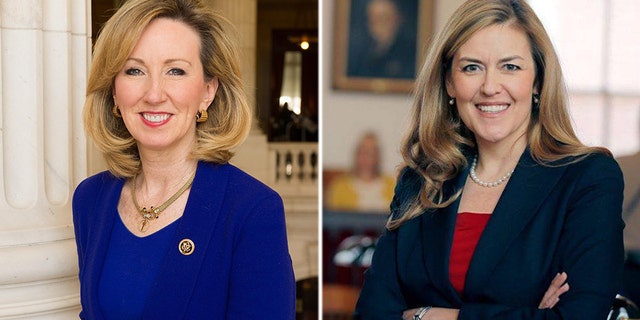 NEWYou can now listen to Fox News articles!
Rep. Barbara Comstock, R-Va., lost her re-election bid in northern Virginia Tuesday, losing out to Democratic State Sen. Jennifer Wexton in an early sign hailed by Democrats aiming for control of the House.
Wexton looked set to win comfortably in what was seen as a key pick-up for Democrats. Hillary Clinton won the wealthy D.C. suburban district by 10 percentage points, and Comstock was seen as one of the most vulnerable sitting Republican members of Congress.
Comstock had emphasized her independence from President Trump, while Wexton has looked to brand her as "Trumpstock" in what was often a vicious campaign. Comstock had won her race comfortably in 2016. Trump was unpopular in the district in part because of his proposals to slash federal employees' benefits.
In 2016, Comstock had urged Trump to drop out of the presidential race after the release of the infamous "Access Hollywood" tape, saying she could not "in good conscience" vote for him. But she has since largely backed his legislative agenda.
The Associated Press reported that Comstock and Wexton together raised more than $5 million, with outside groups spending more than $10 million.
House Minority Whip Steny Hoyer told Fox News Tuesday that if the significant margin for Wexton held, it would be a big deal - as it would be a bigger margin than expected. He predicted that Democrats would take control of the House.
Democrats have been confident of taking control of the House, where Republicans held a 23-seat majority.
Wexton had benefited from support from former President Barack Obama, who made an appearance Monday to support Wexton, as well as Sen. Tim Kaine, D-Va. -- a sign of how important the state was for Democrats.
Fox News' Chad Pergram, Andrew O'Reilly, Gregg Re and The Associated Press contributed to this report.