In Strong Appeal To Dominicans, Espaillat May Have Alienated Other Hispanics And Blacks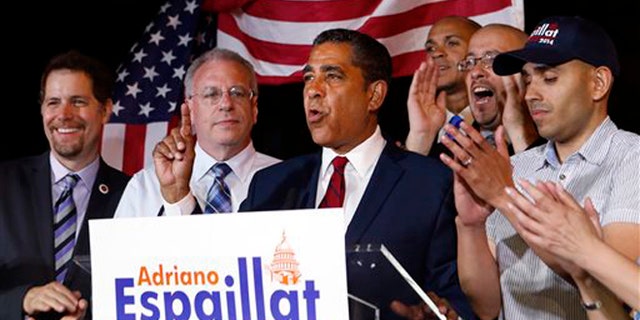 NEWYou can now listen to Fox News articles!
Adriano Espaillat looked to become the first Dominican-born Congress member, but during the hard-fought Democratic primary against Rep. Charles Rangel, political analysts have theorized that he failed to appeal to the broader Latino and black voters in Harlem's very diverse district.
Race and ethnicity were central themes in the primary with the state senator emphatically appealing for strong Dominican pride, which some say propelled Rangel to sharply undermine his credibility.
"Charlie's argument that this is a guy who is running because of the importance of the race to Dominicans and their place in the politics of the city, I think, resonated with people," John Gutierrez, an assistant professor of Latin American and Latina/o Studies at John Jay College of Criminal Justice told The New York Times. "Part of the reason for that is because, for so many years, Adriano was sort of lost in the Assembly."
Rangel, who has held the district's seat for 44 years, performed well in heavily Latino areas. He easily took the stronghold in East Harlem and peeled off significant blacks of the vote in precincts across more heavily Dominican areas in Inwood and Washington Heights.
Cid Wilson, a Democratic activist and a national Dominican-American leader, disagreed with the sentiment that Espaillat's campaign was all about having the first Dominican elected in Congress and effectively alienating Blacks, other Latinos and Jews living in the district.
He told Fox News Latino it was natural for Dominican voters in the district to rally around him because they were in the cusp of history, but it did not mean that other ethnicities did not rally in his favor.
"I think people are maybe reading too much into this," he said. "The sense that he ran only for being a Dominican candidate …. I would debate that."
The results highlighted the nuances of ethnic politics, but also the difficulty of unseating an incumbent with deep ties to the community.
Wilson said he believes that because of Rangel's 44-year track record, it was natural for him to have the power of incumbency with a strong fight on progressive issues, which also helped with voters at the polls.
He added that Rangel's decision that this will be his last term in Congress may have given voters a sense of respect to give him one last term.
"Rangel is one person that commands a lot of respect," he said. "I think this was a natural election in a district that has shifted."
State Sen. Ruben Diaz Sr., who endorsed Espaillat, said Rangel is well-liked throughout the Latino communities in the district.
"Everybody knows him in the Barrio. Everybody," he told The Wall Street Journal. "He's been there for more than 40 years."
If Espaillat decides to run again in two years – which Wilson believes he will do – he will need to look into unifying the district that was divided during the campaign.
"If he runs again, he needs to focus on developing unity in this district," said Rev. Dr. Calvin O. Butts III, the pastor of Abyssinian Baptist Church in Harlem on Tuesday night. "We are not a district of African-Americans and Dominicans and whites to be played against each other."
Follow us on twitter.com/foxnewslatino
Like us at facebook.com/foxnewslatino