In English and Spanish, George P. Bush brought star power to Texas school choice rally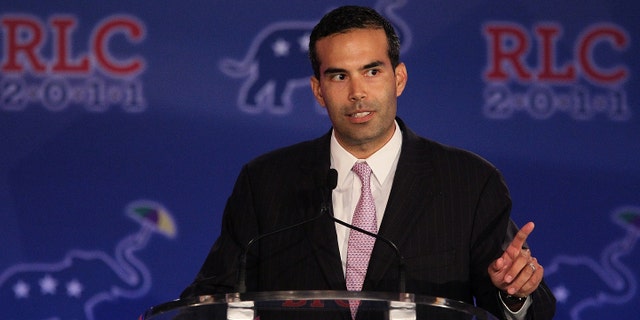 NEWYou can now listen to Fox News articles!
AUSTIN, Texas – While his father has grabbed headlines in recent days as he prepares for a possible 2016 presidential run, Texas Land Commissioner George P. Bush lent national star power to a school choice rally, championing school vouchers and charter schools in flawless English and Spanish.
The son of presidential hopeful Jeb Bush, George P. Bush is a former public school teacher in Miami and served on the board of one of Texas' largest charter school operators. His office oversees Texas' Permanent School Fund, which helps pay classroom costs and which recently surpassed a Harvard University fund as the nation's largest educational endowment.
Many at the rally wore "National School Choice Week" scarfs, and Friday's was one of many similar gatherings being held throughout the country. One of the organizers of Texas' event was the Libre Initiative, a national group funded by the conservative mega-donor Koch Brothers to woo Hispanics to conservative causes.
Bush promised to use his "voice and the platform of the Permanent School Fund to encourage more education reform" statewide, adding that "school choice must be a part of that conversation."
"The majority of our students are trapped in schools that are underperforming," said Bush, who switched gracefully between English and Spanish. "Some schools don't work and refuse to change, and that's why we need school choice."
New Lt. Gov. Dan Patrick likens school choice to the civil rights movement and says low-income parents should be able to remove their children from struggling public schools and get state money so they can afford private alternatives.
Last legislative session, lawmakers dramatically overhauled public education, including approving a major expansion of charter schools. About 200,000 students attend 600-plus charter schools statewide, though supporters say more than 100,000 others are on waitlists.
Meanwhile, much-ballyhooed voucher proposals died when lawmakers passed a bipartisan resolution to keep public funding in public schools. Democrats often partner with rural Republicans who fear hurting their district's traditional schools.
A key Patrick ally, state Sen. Donna Campbell, attended Friday's rally and said the traditional public school system is "a tragedy created by government."
Teachers unions and civil organizations counter that fixing struggling public schools shouldn't involve siphoning funding away for private alternatives. Jimmie Chadwell, superintendent of Eagle Mountain-Saginaw school district, north of Fort Worth, said that while private schools often can select who they educate, public schools take all comers — even kids from the most problematic of backgrounds.
"Most conversation about our public schools tends to be negative," Chadwell said in a phone interview. "Not because it's based upon facts but because it's about extremes."
Based on reporting by The Associated Press.
Follow us on twitter.com/foxnewslatino
Like us at facebook.com/foxnewslatino