In Closely Watched GOP Primary, North Carolina Favored 'Establishment' Candidates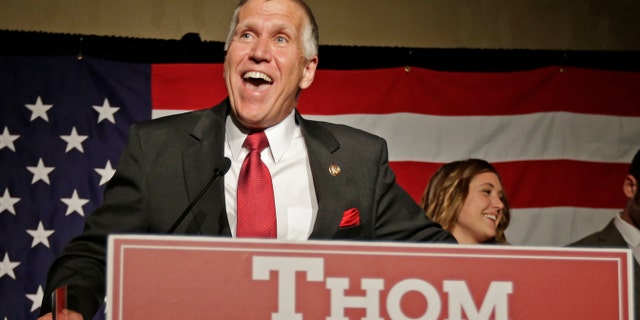 NEWYou can now listen to Fox News articles!
In the most closely watched race Tuesday launching primary season, North Carolina voters leaning Republican chose candidates who embraced more middle-of-the-road stances over Tea Party contenders.
State House Speaker Thom Tillis, a conservative who ran as the so-called "establishment Republican," captured the Republican nomination over Tea Party favorite Greg Brannon, who got backing from Sen. Rand Paul of Kentucky.
Rep. Renee Elmers, who has taken a liberal stance on immigration reform, handily defeated opponent Frank Roche, who staked his candidacy on a hard line immigration stance.
She won by nearly 20 percentage points, a greater margin than her primary victory during her 2012 reelection campaign. State Assemblyman David Rouzer, also a supporter for more liberal immigration policies, won the race for an open seat left by Mike McIntyre, a congressman who is not seeking re-election after serving since 1997.
The Tar Heel state's Republican primary fight between ultra-conservative candidates and those with more flexible views is being seen as a test of where Republican voters stand on the ideological spectrum, and what that may imply for the November elections.
Groups that favor more liberal immigration policies seized on the triumph of more moderate Republicans over Tea Party candidates as a sign that GOP voters were eschewing ultra-conservatism, particularly when it comes to how to deal with immigrants.
"Yesterday's primaries in North Carolina and Ohio proved, once again, that the supposed strength of the nativist wing of the GOP is more myth than reality," said a statement by America's Voice, a group that favors more lenient immigration policies. "The results show that the vaunted anti-immigrant movement is loud but not large, and that Republican primary voters are more pragmatic and open to reform than right-wing media pretends."
Nationally, GOP leaders are intent on gaining, at a minimum, the six seats needed to win a Senate majority in the fall. They already have a majority in the House of Representatives.
Establishment GOP figures made little or no secret of their desire for Tillis to prevail, fearful that any other challenger to the Democrat incumbent, Sen. Kay Hagan, could mean a replay of 2010 and 2012, when Republicans lost winnable Senate races in Nevada, Indiana and Missouri.
In many races in recent years, the most conservative candidates won GOP primaries, but then lacked the broader appeal to win the general elections.
The nation's largest Tea Party group, the Tea Party Express, did not actively support anyone in North Carolina, but said it will probably endorse Tillis for the November election.
Sal Russo, chief strategist for the Tea Party Express, said North Carolina's primary results did not spell a defeat for the Tea Party or its principles.
"The first test [for the Tea Party] was in Florida," Russo said. "That's the first election in which the Tea Party Express endorsed a candidate, Curt Clawson, in the primary."
Clawson, a conservative businessman, beat three GOP contenders, putting up millions of his money into the campaign, and garnering the support of the ultra-conservative base, including Sen. Rand Paul of Kentucky. His main challenger was state Senate Majority Leader Lizbeth Benacquisto, who was endorsed by former Alaska Gov. Sarah Palin.
Russo argues that the lines between Tea Party conservatives and other Republicans are not always as clear as many deem them to be.
"Governor Palin was not with us on that one," Russo said about the former vice presidential candidate who is a favorite of Tea Party groups. "That shows that with the Tea Party, it's not always black and white. It's usually gray."
"There's a constant struggle that goes on, the insiders and outsiders," Russo said. "What's important is at the end of the day, they come together on a common interest, which we did in 2010."
In this case, the candidates described as establishment were largely conservative, though they ran under more of a moderate GOP banner, and seemed more center-right when stood up against their more conservative challengers.
The head of the Democratic National Committee balked on Wednesday at the contention that moderate Republicans had won the "civil war" against the Tea Party faction.
"On the contrary, the Tea Party has won the civil war that has been raging inside the Republican Party," said Rep. Debbie Wasserman Schultz, the Florida Democrat who chairs the DNC, at an event hosted by by the Christian Science Monitor.
North Carolina House Speaker Tillis, Wasserman said, is really a Tea Party conservative hiding under establishment GOP clothing.
If anything, the congresswoman added, North Carolina's primary results reflect how the Tea Party has pushed the Republican Party into embracing more "extreme" conservative positions.
"Tom Tillis is no longer — if he ever was — an 'establishment' candidate. He has been dramatically pulled to the right," she said. "As speaker of the House, he has presided over some of the most extreme right-wing policies that have ever been enacted by a legislature. He has taken positions, by being forced to the right, and I'm assuming he's done that willingly. He certainly seems to have gleefully engaged in some of the policies he's put forward."
She added: "That's what I think is going to continue to cause the Republicans problems in winning elections."
Democrats in North Carolina already have signaled that they will cast candidates like Tillis and Elmers as extreme-right conservatives masquerading as moderate Republicans.
Hagan said in a statement, "Speaker Tillis cut public education by nearly $500 million, killed equal pay legislation, defunded Planned Parenthood, gutted unemployment insurance for 170,000 people and rejected health care for 500,000 North Carolinians" by declining to expand Medicaid. She said he cut taxes for the rich and froze teachers' pay.
Tillis portrays his legislative record as a triumph of common-sense conservatism. He says voters should elect him senator because of that legislative record. Hagan says they should reject him for precisely the same reason.
Their contest should show where voters want the conservative-liberal balance drawn in a state that often sends one Democrat and one Republican to the Senate.
Like her fellow Democrats in Arkansas, Louisiana, Alaska and elsewhere, Hagan must persuade anti-Obama independent voters that her support for the president's health care law does not signal blind loyalty on all issues.
Activists in both parties say the Obamacare attacks have hurt Hagan. But they also agree that Tillis can't beat Hagan by harping on the health care issue alone.
"I don't think there's anyone in North Carolina who doesn't know Kay Hagan voted for Obamacare," said longtime Republican strategist Carter Wrenn of Raleigh. The broader issue, he said, is overall disenchantment with Obama, especially among independents.
"Saying she supports Obamacare is saying she supports Obama," Wrenn said.
Veteran North Carolina Democratic adviser Gary Pearce predicts Tillis' strategy will amount to: "I'm going to fight Obama, and she's going to support Obama. ... That's all you're going to hear from now on."
It's a Republican strategy likely to play out in Arkansas, Louisiana, Alaska, Colorado and New Hampshire, where Democratic senators seek re-election. They are among the GOP's priorities in its drive to gain six Senate seats and control the Senate during Obama's last two years in office.
Tillis' nomination gives North Carolina a head start in the effort.
"If the election is a referendum on Obamacare, then Kay Hagan will probably lose," said North Carolina Democratic strategist and blogger Thomas Mills. "If it's a referendum on the state General Assembly, Thom Tillis is going to have a hard time."
Russo, for his part, has traveled all over the country meeting with congressional GOP candidates to get a feel for whom the Tea Party Express will endorse.
They are sizing up the candidates on whether they adhere to conservative principles, where they stand on growing the economy, whether they can raise enough money and whether they are electable in a general election.
"Can they put together a viable campaign?" Russo said.
The Associated Press contributed to this story.