In a pickle: New Jersey breaks out the brine for snowy roads as it awaits fed OK for salt delivery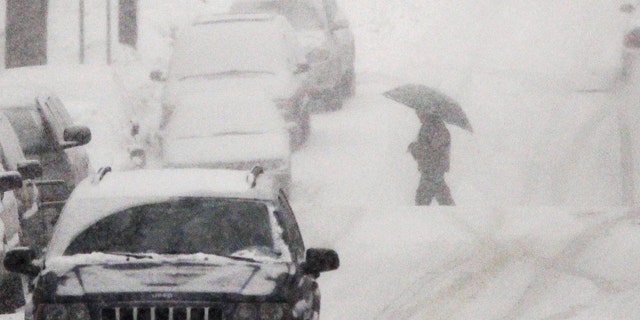 New Jersey is in a pickle as a rule of the high seas shuts off the flow of salt to keep roads clear.
State officials are now being forced to turn to a briny pickle juice-like mixture as an alternative to de-ice the roads, while racing to get a federal waiver that is currently holding up a 40,000-ton shipment of rock salt.
The salt is sitting at a port in Maine, docked until New Jersey officials obtain a federal waiver. Once that is done, it will take two days to ship the load from Maine to Newark.
The shipment is being denied entry because it's on a vessel that isn't flying under a U.S. flag – a violation of the 1920 federal Maritime Act -- also known as The Jones Act -- that requires shipments to arrive on a ship with goods traveling between two U.S. ports to be flying the American flag.
New Jersey Transportation Commissioner Jim Simpson said during a radio interview that the nearest U.S.-flagged vessel would take a month to deliver the shipment of salt.
"We've been going back and forth with the feds," Simpson said during the interview. "This is the kind of stuff we're dealing with. Even government, the federal government, gets in the way."
New Jersey Democratic Sens. Cory Booker and Bob Menendez have reached out to the U.S. Department of Homeland Security and the state Department of Transportation to resolve the matter quickly, but have yet to obtain a waiver.
The state is slated for another round of icy winter weather Tuesday. Many cities and towns in northern New Jersey saw a foot or more of snow from last week's nor'easter. Sussex County received 22 inches of snow. Many stretches of road remain coated in ice and slush.
For now, the state may be stuck using the pickle juice as it waits for the federal government to cut through the government red tape.
This isn't the first time New Jersey has turned to the briny pickle juice-like mixture as a quick way to melt snow. In 2011, Bergen County's 230 plows and salting vehicles were loaded up with juice, which costs about 7 cents a gallon compared to $63 a ton for salt.
For its part, the acidic combo may actually be better for the environment as a way to de-ice the roads. A study by Marquette University shows that while salting snowy roads can cut down on accidents up to 88 percent, sodium chloride stays in the ground, seeping into streams and eating into cars and concrete.
Still, the tangy yellow liquid is not the strangest way some states are dealing with the snow.
Calls to Menendez's office and the Department of Homeland Security for comment were not immediately returned.