Illinois House of Representatives overrides gov's veto of $36B budget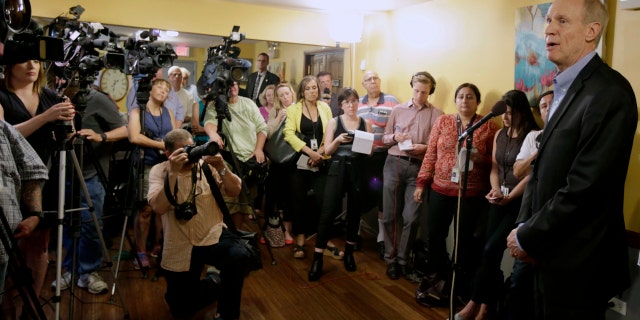 NEWYou can now listen to Fox News articles!
SPRINGFIELD, Ill. – The Illinois House voted Thursday to override Gov. Bruce Rauner's vetoes of a budget package, giving the state its first spending blueprint in more than two years and ending the nation's longest fiscal stalemate since at least the Great Depression.

Lawmakers have been meeting in a special session called to deal with the budget crisis. The session was widely seen as a battle between the first-term governor, a former private equity investor, and longtime Democratic House Speaker Michael Madigan of Chicago.

The new budget will be fueled by a permanent 32 percent tax increase retroactive to July 1. Individuals will pay 4.95 percent instead of 3.75 percent. The corporate rate jumps to 7 percent from 5.25 percent.

Lawmakers approved the bill to raise taxes by a 71-42 vote. The spending bill passed 74-37. It takes 71 yes votes to override.

Rauner vetoed the measures because, he said, he saw no indication that the Democratic-controlled Legislature would send him the "structural" changes he's demanded. Those include a statewide property tax freeze, cost-cutting restrictions on compensation for injured workers, changes to pension benefits for state employees and reforms making it easier for voters to merge or eliminate local governing bodies.

Rauner described the override vote as "another step in Illinois' never-ending tragic trail of tax hikes."

Madigan's plan "is not balanced, does not cut enough spending or pay down enough debt, and does not help grow jobs or restore confidence in government," the governor said. "It proves how desperately we need real property tax relief and term limits."

Speaking from the House floor just after the vote, Madigan said the budget was the result of bipartisan efforts to end the "destructive" impasse.

The standoff, which entered a third fiscal year on July 1, had effects statewide. Road construction work shut down. Public universities were cut to the bone and faced a loss of academic accreditation. The United Way predicted the demise of 36 percent of all human-services agencies in Illinois by year's end.

Credit-rating houses threatened to downgrade the state's creditworthiness to "junk," signaling to investors that buying state debt is a highly speculative venture. Two agencies gave Illinois some breathing room Monday after House votes over the weekend.

But on Wednesday a third credit-rating agency, Moody's Investors Service, put Illinois under review for a downgrade even if lawmakers overrode the veto. Moody's said that while lawmakers have made progress, the House package does not address the state's massively underfunded pensions or do enough to pay down bills.

Illinois has a $6.2 billion annual deficit and $14.7 billion in overdue bills.

At least a few House Republicans voted against the governor, whose massive personal wealth has largely funded the state Republican Party.

Rep. David Harris of Arlington Heights said he supported the budget plan because it is "immoral" for the state to carry a huge backlog of bills and pay $800 million in late-payment interest.

He compared the standoff to a game of "chicken."

"If it requires some of us to blink to save our state, so be it," Harris said.

The governor already faces several Democratic heavyweights hoping to displace him in the 2018 election.

Government has limped along for two years on the strength of court-ordered spending.

Voting was delayed for several hours as authorities investigated a report of a woman throwing a powdery substance in the governor's office. Emergency workers in protective gear inspected the office before the building was declared safe.

Rauner was not at the Capitol, his staff said.

One person was taken into custody, said Dave Druker, a spokesman for the Secretary of State's office, which oversees Capitol security.