Illinois GOP Gov. Rauner in close primary race, Pritzker wins Democratic nomination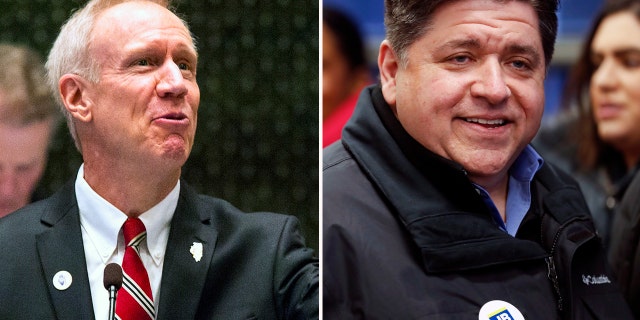 Illinois Gov. Bruce Rauner was locked in a tight Republican primary battle with an insurgent state legislator Tuesday evening, while businessman J.B. Pritzker was projected to cruise to victory in the Democratic contest.
With 80 percent of precincts reporting, Rauner led state Rep. Jeanne Ives by 52 percent to 48 percent. Pritzker won 46 percent of the vote in the Democratic primary to best five other candidates, including State Sen. Daniel Biss (26 percent) and developer Chris Kennedy (24 percent), a son of the late Sen. Robert F. Kennedy.
If Rauner holds off Ives in the primary, the ensuing general election campaign against Pritzker is expected to be the most expensive in U.S. history. Both men have already combined to spend more than $120 million out of their own pockets so far on the contest.
Rauner, a former venture capitalist, took advantage of the 2014 GOP wave to pull off a surprising gubernatorial victory in a state otherwise dominated by Democrats. He promised to "shake up" Springfield with a pro-business agenda that included lowering property taxes and instituting term limits on officeholders. But his ongoing spat with powerful state House Speaker Michael Madigan and other legislative Democrats left the state without a budget for two years while billions of dollars of debt piled up.
In September, Rauner attempted to break the deadlock by signing a bill expanding public funding of abortion in the state – effectively cutting ties to the very conservatives who helped elect him.
In an interview with the Chicago Sun-Times last week, Ives called Rauner's enactment of the law "the ultimate betrayal" and warned "there will be a reckoning." Ives also won the endorsement of National Review magazine, which described Rauner as "The Worst Republican Governor in America" and said he had "forfeited any claim on his party's nod."
Pritzker, an investor and heir to the Hyatt hotel chain who poured nearly $70 million of his own money into the primary campaign, has sought to make the election a referendum on President Trump. The longtime Hillary Clinton donor has repeatedly called Trump a "racist," "xenophobe," "misogynist" and "homophobe" during stump speeches and claimed that "no candidate running for governor [has] done more to fight against Donald Trump."
In contrast to Rauner and Pritzker, Ives raised just $4 million -- but made an impression on voters with a series of TV ads attacking the governor's conservative credentials in edgy TV ads. One of them, which the chairman of the state GOP blasted as a "cowardly attempt to stoke political division," portrays actors mockingly thanking Rauner for not doing enough to restrict illegal immigration, abortion and transgender bathroom rights.
In response, Rauner has maintained that he is the only Republican who can defeat Pritzker in November.
"I'm the one person who can win," the governor told a southern Illinois radio station last week, saying he's "excited" to take on Pritzker. "We are going to blow him up and take him down."
Tuesday's primary was being closely watched as a bellwether for the rest of the nation and could shed light on what Democrats need to do to cut into GOP holds on governors' seats.
This year, 36 governorships are up for grabs, with 26 of them currently held by Republicans. FiveThirtyEight has identified Illinois as having one of 18 Republican governorships that could be flipped.
Fox News' Barnini Chakraborty and The Associated Press contributed to this report.