Illegal Immigrants Face Hurdles in Trying to Leave U.S.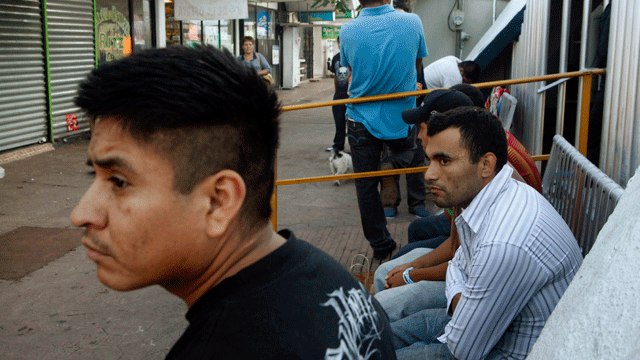 Exiting the United States may become as risky for illegal immigrants as entering.
In the first 10 months of this fiscal year, more than 5,000 illegal immigrants in Arizona alone trying to leave the U.S. were nabbed by U.S. Customs and Border Protection -- a trend that some anti-illegal immigration groups oppose because they favor a smooth exit for illegals seeking to exit the country voluntarily.
But federal officials say nabbing illegals as they leave sends a message to would-be illegal immigrants and that border agents have the discretion to let illegals who aren't wanted on other charges to go back to their native countries while capturing suspected smugglers or other alien criminals.
The dispute comes after a federal judge struck down the most controversial parts of Arizona's new immigration law last week before it went into effect. The legal battle continues between the federal government and Arizona over immigration policy. But illegal immigrants have been leaving Arizona ever since the law was passed in April, and some have faced obstacles trying to return to their native countries.
"Customs and Border Protection (CBP) is charged with enforcing a variety of laws at and between our ports of entry," the agency said in a written statement sent to FoxNews.com. "As part of the concerted efforts to secure the U.S. border, CBP has taken positive steps to combat, disrupt and deter the criminal elements that threaten the safety of the American people through illegal activity and violence. As part of these efforts, CBP has augmented outbound operations to target criminal violations, including the smuggling of illegal weapons and currency into Mexico."
The agency said outbound examinations have "successfully stopped child abduction, interdicted criminals fleeing prosecution, interdicted illegal contraband such as controlled substances, precursor drugs, and arms, and uncovered myriad other violations such as stolen vehicles, trade violations and immigration violations."
More than 4.7 million in southbound currency, 12,000 rounds of ammunition and 40 stolen vehicles have been intercepted on the Arizona border this fiscal year, the agency said.
The agency also noted that its seizures of contraband rose significantly across the board in 2009, including 14 percent more illegal bulk cash, 29 percent more illegal weapons and 15 percent more illegal drugs than the year before.
Americans for Legal Immigration PAC (ALIPAC), which is calling on the Obama administration to establish "safe departure" border checkpoints to allow illegals to leave without fear of detention or prosecution for immigration crimes, said his group wants illegal aliens suspected of other crimes to be caught, but it would prefer the crimes not be committed in the first place.
"Our position is we'd rather illegal aliens be stopped before they rape and murder Americans. Whereas the Obama administration prefers to nab them after they rape or murder Americans," William Gheen, president of the group, told FoxNews.com.
"These are preventable crimes if the border was secured and immigration laws were adequately enforced," he added.
Gheen blasted the Obama administration for not enforcing immigration law against immigration activists who were arrested in a protest last month in Washington. The activists were demanding that senators pass a bill that offers children of illegal immigrants a process to become permanent citizens.
"The paradox is if you're an illegal alien in America or protester supporting Obama's comprehensive immigration reform, you can disrupt offices in D.C. and be arrested without fear of deportation," he said. "If you are an illegal alien trying to comply with federal law (by leaving America), Obama will threaten you with punishment because you're acting against his plan."