IG to review 'special' program that let Clinton aide Huma Abedin have 2 jobs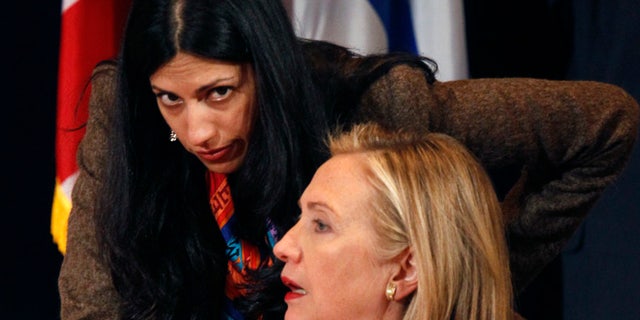 NEWYou can now listen to Fox News articles!
The State Department inspector general plans to review a controversial program that allowed a longtime Hillary Clinton aide to work for a private firm at the same time she was working for the former secretary of state.
Sen. Chuck Grassley, R-Iowa, who originally sought a probe of Huma Abedin's job status citing conflict of interest concerns, revealed the development on Friday – releasing a letter from Inspector General Steve Linick confirming the review.
Grassley's questions centered on how Abedin was allowed to work as a top assistant to then-Secretary of State Clinton under a special, part-time status while also being employed at a politically connected consulting firm.
She was able to do so under a status known as "Special Government Employee."
Linick said in his letter that his office "intends to examine the Department's SGE program to determine if it conforms to applicable legal and policy requirements, including whether or not the program, as implemented, includes safeguards against conflicts of interest."
The decision comes as the IG also looks at department email practices, following the revelation that Clinton exclusively used personal email, on a private server, while secretary of state. That controversy prompted Grassley, last month, to revive his long-running concerns about Abedin – questioning whether her emails would even be accessible to those looking into her records, as she reportedly was on Clinton's server.
Grassley hailed the IG's decision to start looking into the SGE program.
"This program is meant to be used in a limited way to give the government special expertise it can't get otherwise," Grassley said in a statement on Friday. "An inspector general review is necessary. Available information suggests that in at least one case, the State Department gave the special status for employee convenience, not public benefit."
Abedin is married to former Democratic Rep. Anthony Weiner, who resigned after a sexting scandal.
Grassley's inquiries on the SGE status started in 2013, when he requested all communications between Abedin, after she switched from a full-time deputy chief of staff for Clinton to a part-timer, then started working for Teneo, a consulting firm that says it "brings together the disciplines of government and public affairs."
"A number of conflict-of-interest concerns arise when a government employee is simultaneously being paid by a private company," Grassley said in a March 19 letter to Secretary of State John Kerry that also raised concerns about Abedin and other department employees appearing to have been "improperly categorized" as SGEs.
Grassley said at the time the department's answers so far were "largely unresponsive" and pointed to a November 2014 response that in part states "an individual may receive an SGE designation if he or she is joining the department from the private sector or is coming from another government position."
However, Abedin came neither from the private sector nor another government position, Grassley argued.
Grassley also said the purpose of the SGE program is to help the government get temporary services from people with special knowledge and skills whose principal employment is outside the government.
A July 2013 letter from the department to Grassley said Abedin worked full-time from January 2009 to June 2012.
The State Department says Abedin was then an SGE until February 2013, essentially doing the same job that she did as a full-time employee, advising on Clinton's schedule and travel. It also states she reviewed department ethics guidelines but was allowed to work part-time without a new security clearance.