'I Am Not Going Away,' Rangel Tells Fellow Lawmakers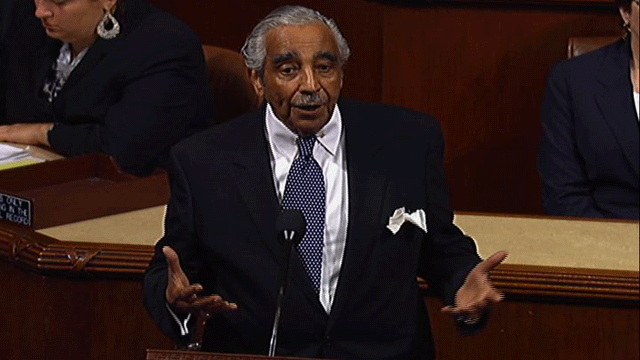 New York Democrat Charles Rangel told his fellow lawmakers Tuesday in a rambling and defiant floor speech that he's not resigning, despite 13 charges of ethical wrongdoing.
"I am not going away," the former Ways and Means Committee chairman declared in a combative tone. "If I can't get my dignity back here, then fire your best shot in getting rid of me through expulsion."
Rangel, who is 80, spoke without notes in an extraordinary, often emotional 37-minute speech that defied his lawyers' advice to keep quiet about his case.
"You're not going to get me to resign to make you feel comfortable," he said, before offering a word of advice to his colleagues.
"Don't let this happen to you," he said. "Not all of you would be able to withstand it."
Expulsion is the harshest penalty that can result from an ethics case. It would be highly unlikely in Rangel's case because Rangel is not accused of corruption.
Rangel also pleaded with the ethics committee, saying he would like a trial before he dies."Don't leave me swinging in the wind."
Rangel told the House that he made mistakes but that he is not corrupt.
"I'm not asking for leniency," he said. "I'm asking for exposure of the facts."
Rangel, known for his friendly, backslapping demeanor but also his toughness on legislative issues, said he had his own interpretation of President Obama's remarks in a CBS interview on July 30. The president said: "He's somebody who's at the end of his career. I'm sure that what he wants is to be able to end his career with dignity. And my hope is that it happens."
Rangel said, "When the president said he wanted me to end my career in dignity, he didn't put a time limit on it."
White House spokesman Bill Burton would not elaborate on what Obama meant, including whether the president was sending Rangel a not-so-veiled suggestion that he leave Congress.
"I think the president's words speak for themselves," Burton said.
Rangel said his legal bills have reached nearly $2 million and he can't afford to keep paying -- especially when "nobody is going to read the defense."
Rangel is charged with doing legislative favors for donors he solicited -- on official stationery -- for contributions to a college center named after him.
He's also accused of belated payment of taxes from income on his rental unit at a Dominican Republic resort; the later financial disclosures, which Rangel admitted were inexcusable; and of taking advantage of a New York rent subsidy for residential units, by using a Harlem apartment as a campaign office.
"In the haste of sending out hundreds of letters" to donors for the Rangel Center at City College of New York, Rangel said there "has to be a penalty for grabbing the wrong stationery." He quickly added, "It may be stupid, it may be negligent, but it's not corrupt."
He said the office set aside for him at the center is hardly a gift.
"Who the heck needs an office ... in a broken-down building?" he asked.
The National Republican Congressional Committee was unmoved by Rangel's speech, calling it a "semi-coherent, full-throated defense."
"Charlie Rangel might not have been found guilty of ethical misconduct yet, but there is proof beyond a reasonable doubt that he helped build the Democratic majority by padding the campaign war chests of dozens of members of Congress with millions of dollars in contributions," NRCC spokesman Ken Spain said in a written statement.
"It's official: House Speaker Nancy Pelosi's 'most ethical Congress in history' has turned into a three-ring circus," he added.
Fox News' Chad Pergram and The Associated Press contributed to this report.