Hungary's pro-Trump, populist government pushes Soros crackdown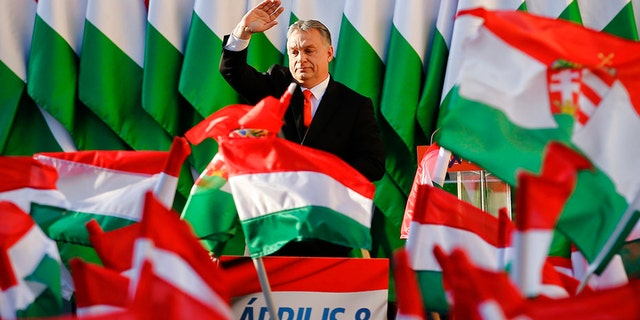 Hungary's populist government is brimming with confidence after a comfortable election win in April, and is pushing ahead with tough policies on immigration and combating the influence of left-wing Hungarian-American billionaire George Soros.

President Trump spoke with Prime Minister Viktor Orban last week, congratulating him on the formation of the new government.
According to a readout from the White House, the two "agreed on the need for strong national borders" and pledged to keep relations between the two countries strong.

While Orban's Fidesz Party had been expected to win the election, analysts had cautioned that the party's decision to campaign almost exclusively on the issue of mass migration could hurt its standing as voters' focus was elsewhere. Allegations of corruption and authoritarianism from human rights groups also risked damaging Fidesz's standing in the polls.

But Fidesz' focus paid off, and the party emerged with a strong majority in the Hungarian parliament. Now, the populist government is cracking down not only on immigration but also the influence of Soros, whom Orban has accused of leading a "mercenary army" via his non-governmental groups.

"George Soros had a clear target, to beat this government, to fire this government but that was not very successful, let's put it this way," Hungarian Foreign Minister Peter Szijjarto told Fox News in a recent interview in New York.

On Wednesday, the Hungarian Parliament passed the "Stop Soros" bill, including a measure making it illegal for non-governmental organizations (NGOs) to organize illegal immigration into the country. Such organization can range from financial support to the distribution and preparation of information and pamphlets.
SOROS GROUP PULLS OUT OF HUNGARY AS ORBAN GOVERNMENT FLOATS 'STOP SOROS' PACKAGE

The law would punish individuals engaging in such activities with up to 12 months in jail. The government has also floated a 25 percent tax for any foreign funding for NGOs helping migrants.

"This strengthened protection is needed because the mass immigration afflicting Europe is continuous, while the Soros network and the pro-immigration policy of Brussels are creating the threat of attempts to also swamp our country with migrants," Orban's office said in a statement.

While the legislation targets any non-governmental organization, Szijjarto made it clear who the government was targeting: "Soros is the number one organizer of such activities."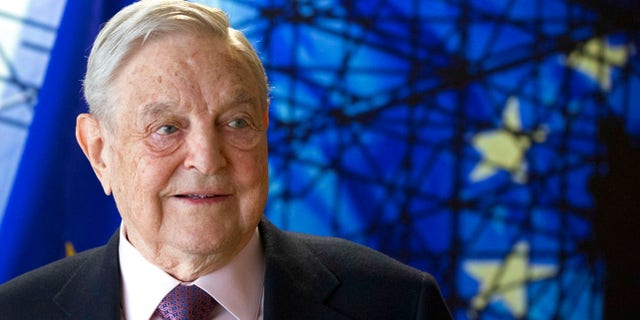 The government's anti-Soros activities and rhetoric have not gone unnoticed. Soros' Open Society Foundation has moved its Budapest offices to Berlin after what it described as a "repressive political and legal environment."

"The government of Hungary has denigrated and misrepresented our work and repressed civil society for the sake of political gain, using tactics unprecedented in the history of the European Union," Patrick Gaspard, president of the Open Society Foundations and a former Obama White House political affairs director, said in a statement last month.

"The so-called Stop Soros package of laws is only the latest in a series of such attempts. It has become impossible to protect the security of our operations and our staff in Hungary from arbitrary government interference."

Amnesty International's Europe Director told The New York Times that the new law marked "a new low point in an intensifying crackdown on civil society and it is something we will resist every step of the way."

Hungary has long been a pariah in the eyes of the European Union and United Nations, and was one of the few governments to initially push back against the opening of Europe's borders during the 2015 migration crisis.

But it has also drawn close to the Trump administration and has welcomed some comparisons to the Trump movement -- noting that it has built a fence on the border and deployed troops to secure it. Szijjarto recently met with Secretary of State Mike Pompeo in Washington, the first such meeting in six years, where the State Department said they discussed increased U.S. investment in Hungary, as well as a defense cooperation agreement.

The Hungarian government is likely to be buoyed also by Trump's criticism of more liberal immigration policies in Europe, particularly in Germany.

"Big mistake made all over Europe in allowing millions of people in who have so strongly and violently changed their culture!" Trump tweeted on Monday.

Speaking to Fox News, Szijjarto echoed a similar sentiment and said that shutting down mass migration was not just about economics, but also about security and culture.

"We don't want a post-national and post-Christian European Union. We want a Christian European Union based on strong member states," he said.
Orban's dominance in Hungary comes as populist and nationalist parties have picked up significant wins throughout the continent.
Italy recently installed a populist government which has taken a tough line on immigration, while in Germany Chancellor Angela Merkel is scrambling to keep her fragile coalition together amid feuds over migration policy.