House panel to consider whether to impeach IRS chief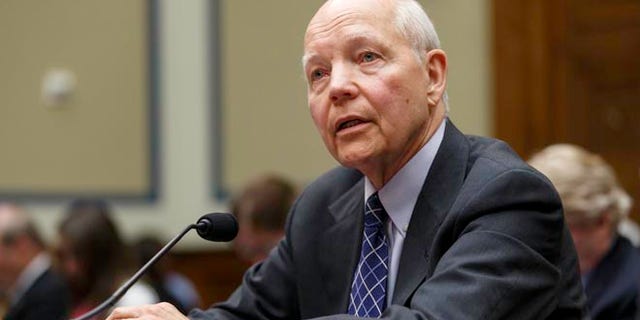 NEWYou can now listen to Fox News articles!
The House Judiciary Committee announced Friday that it will hold hearings to consider whether to impeach IRS Commissioner John Koskinen, who is accused of failing to comply with a congressional subpoena and lying under oath to Congress.
The committee announced that two hearings in May and June would be held to investigate alleged misconduct by the IRS chief. Committee members claim Koskinen did not comply with a subpoena, which in turn led to the destruction of IRS official Lois Lerner's emails related to the alleged targeting of conservative groups by the IRS. The committee claims Koskinen lied under oath and did not inform Congress that the emails were missing.
The first hearing, scheduled for May 24 will hear from a panel of witnesses presenting the findings of a House Oversight Committee investigation into Koskinen. At the June hearing, experts will comment on the findings presented in the first hearing.
"Despite repeated congressional efforts to get to the bottom of this matter, Obama Administration officials, including the IRS Commissioner, have consistently undermined the investigation. Over the coming weeks, the House Judiciary Committee will closely examine Commissioner Koskinen's misconduct and the implications of his actions," Chairman Bob Goodlatte, R-Va., said in a statement.
Koskinen took charge of the agency in 2013, after it was revealed that it had targeted conservative groups applying for tax-exempt status, delaying their applications for years at a time in some cases.
Members of the House Oversight Committee called for Koskinen's impeachment as early as last summer over his handling of the scandal. In order to impeach Koskinen, the entire House would have to act.
House Speaker Paul Ryan has been cool to the idea of impeaching the IRS chief and was not willing to move an impeachment effort against Koskinen on the House floor when asked by Fox News in April.
Tea Party Patriots co-founder and CEO Jenny Beth Martin praised the move in a statement, but said the group was still waiting for Lerner to be held accountable as well.
"Frankly, we are still waiting for someone to hold Lois Lerner accountable for her role in directing the targeting of Americans, but we also believe it's important to hold Commissioner Koskinen accountable," Martin said. "We hope the facts uncovered by the House Judiciary Committee in these hearings will lead to impeachment proceedings against John Koskinen for his misconduct as IRS Commissioner."
Fox News' Chad Pergram contributed to this report.