House lawmaker files motion to oust Boehner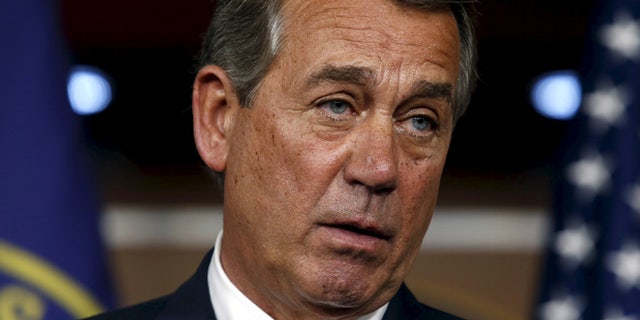 In a move unprecedented in the history of the House of Representatives, a Republican lawmaker filed a motion Tuesday to remove House Speaker John Boehner, R-Ohio, from his post, in another sign of dissatisfaction with Boehner's leadership by a number of House conservatives.
Rep. Mark Meadows, R-N.C., filed the resolution -- a "motion to vacate the chair" -- late Tuesday, claiming that he "has endeavored to consolidate power and centralize decision-making, bypassing the majority of the 435 Members of Congress and the people they represent."
The proposal was referred to a committee stocked with leadership loyalists, and therefore unlikely to emerge.
The motion says that Boehner has caused the power of Congress to atrophy, "thereby making Congress subservient to the Executive and Judicial branches, diminishing the voice of the American People."
The motion also claims that Boehner has used the power of his office to "punish Members who vote according to their conscience instead of the will of the Speaker."
Last month, the leadership briefly stripped Meadows of his subcommittee chairmanship over his votes but later relented after conservatives objected.
The resolution could place House Democrats in a difficult, and unusual, position. Democrats would face a dilemma of either voting to help preserve Boehner – with whom they have frequently clashed – or backing House conservatives and gambling on pandemonium by helping to throw Boehner out.
Some GOP members told Fox News that Meadow's resolution is the best thing that could happen for President Obama, taking attention away from the contentious issues of the Iranian nuclear deal, and the swirling controversy surrounding Planned Parenthood for the August recess.
A senior GOP source told Fox News that the motion would now make the Republican leadership the topic du jour instead of the Iran deal.
Allies of Boehner were quick to condemn Meadow's resolution.
"People are stunned. People are angry that somebody would pull this stunt," said Rep. Greg Walden, R-Ore.
"You don't raise any money, you need a way to raise money, you do gimmicks like this," said Rep. Devin Nunes, R-Calif., who is close to Boehner.
However, Meadows told Fox News that he has not raised any money off the issue, and dismissed the concern that it would distract from other issues: "To say we can only have one message is to imply that in our town halls we can have only one question at a time."
"I don't like being in the limelight," Meadows added. "It is fearful when you have to do this. You have to work up courage."
Rep. Walter Jones, R-N.C., backed Meadows, telling The Associated Press that GOP leadership is "not listening to the American people." Jones complained specifically about leadership not allowing quick votes against same-sex marriage and federal money for Planned Parenthood.
Speaker Boehner was not expected to address the resolution Tuesday.
Fox News' Chad Pergram, Mike Emanuel and The Associated Press contributed to this report.