House freshman Carlos Curbelo forms PAC to advance immigration reform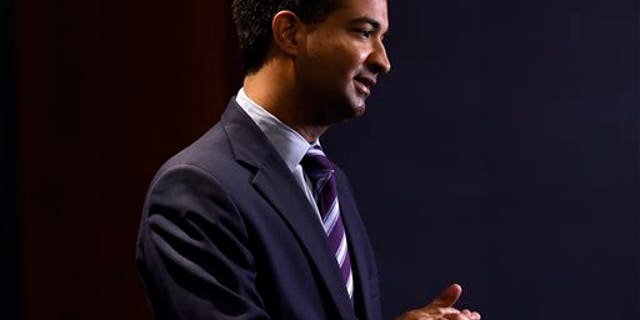 NEWYou can now listen to Fox News articles!
House freshman Carlos Curbelo of Florida is taking another step toward making comprehensive immigration reform one of his pet issues.
The Cuban-American lawmaker, who in January began his new stint as a congressman, has launched a political action committee, or PAC, named What A Country!
Curbelo's PAC aims to raise funds for Republican candidates who support a comprehensive approach to immigration, including bolstering border security and providing a path to legal status for undocumented immigrants who met certain criteria, according to published reports.
"What a Country! recognizes that the United States is the land of opportunity," Curbelo is quoted as telling the Miami Herald, "where anyone who comes here and works hard and plays by the rules can get ahead."
"It will support candidates who understand the importance of overhauling our nation's immigration laws to secure our borders," he said, "promote legal immigration and reward those who contribute to our economy."
Curbelo is very publicly embracing a middle road approach to immigration – one that equally stresses enforcement and giving some forms of relief to undocumented immigrants – at the time when his party is tilting toward a hard line on the issue.
Rep. Mario Diaz-Balart, a Florida Republican who has been pushing in the House for comprehensive immigration reform, said in a statement to Fox News Latino: "I commend Congressman Curbelo for creating this PAC to help elect and maintain Republicans who share our values of hard work, opportunity, and the rule of law."
It was only a few weeks ago that Curbelo made headlines when he bucked his party's efforts to block President Barack Obama's executive action on immigration, and appeared on TV news shows to stress the need to give undocumented immigrants a way to legalize their status. Then, Curbelo, who made immigration reform a cornerstone of his campaign, highlighted the issue again when he delivered the Spanish-language GOP response to Obama's State of the Union address.
The English-language GOP response made no mention of immigration, many noted.
On Tuesday, the Senate is scheduled to take up the Homeland Security spending bill that may also seek to undo Obama's executive action, which suspends deportation for three years for millions of undocumented immigrants who were brought to the United States as minors or who are the parents of U.S. citizens or legal immigrants.
Many Republicans, who now have a majority in both chambers of Congress, have vehemently criticized Obama's executive action, calling it unconstitutional and an end-run around Congress. Many also say that any break for undocumented immigrants amounts to rewarding law-breakers.
Obama has blamed congressional inaction on immigration reform for his decision to implement some policies unilaterally.
Earlier this year, the House passed a GOP-led Homeland Security funding bill pass that called for ending a 2012 Obama directive that suspended deportation for two years to undocumented immigrants who were brought to the United States before the age of 16, and who met other criteria.
But in a widely noticed move, Curbelo was in a minority of Republicans who did not vote for the bill, citing objections to the immigration aspects.
He later told reporters that his vote reflected the wishes of his constituents – many of whom are immigrants or have immigrant relatives – on immigration.
Josh Schwerin, the national press secretary for the Democratic Congressional Campaign Committee, balked at Curbelo's effort and questioned the sincerity of his claims about being moderate on immigration.
"When Carlos Curbelo cast his vote for [Rep.] John Boehner for [House] Speaker he gave up any pretense of actually trying to get comprehensive immigration reform passed through Congress," Schwerin said in an e-mail to Fox News Latino. "Curbelo supports this Republican leadership that has not only blocked comprehensive reform, but made deporting DREAMers a top priority."
Senate Democrats have vowed to block any effort to undo Obama's order to protect millions of undocumented immigrants from deportation.
For his part, Curbelo senses a desire on the part of some in his party to find a compromise on the thorny issue of what to do with the nation's 11 million undocumented immigrants.
"I can assure you that there is a silent majority of House Republicans that believe that it is critical to overhaul our country's immigration law from A to Z," Curbelo told NBC News. "This is part of the effort to support them and to continue building momentum for this necessary reform."
If the bill dies in the Senate, the House will take up the measure again and discuss how to handle the divisive immigration amendments. Leaving them in means risking a partial shutdown of the Department of Homeland Security by the end of this month.
Obama has threatened to veto any measure that undoes his executive action.