House Ethics Committee: Dem Rep. Kihuen sexually harassed women, violated House rules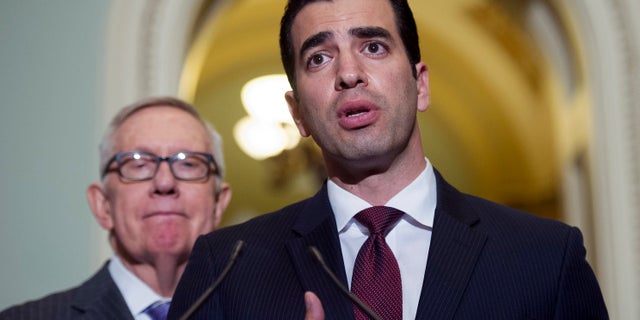 The House Ethics Committee has found that retiring Rep. Ruben Kihuen sexually harassed multiple women, both during his campaign for Congress and while a lawmaker.
Last year, House Minority Leader Nancy Pelosi, D-Calif., said that Kihuen should step down. He did not. But Kihuen did not seek re-election to a second term.
In its report on Kihuen, the Ethics Committee says that Congressman "generally denied the allegations of unwanted advances. Despite Representative Kihuen's denials, each of the complainant's allegations were supported by documentary evidence and some of the alleged incidents were corroborated by third party witnesses."
DEM REP. KIHUEN WON'T SEEK RE-ELECTION AMID SEXUAL HARASSMENT CLAIMS
According to the report, a staffer on Kihuen's 2016 campaign "testified that she was subjected to unwanted physical and verbal advances" by Kihuen. He touched "her thigh on two occasions," commented on her looks, suggested they "should get a hotel room together" and asked if "she would ever cheat on your boyfriend," it said. A "Nevada lobbyist" also said Kihuen made improper advances toward her including "sliding his hand under her dress and onto her thigh, grabbing her buttocks" and "asking her what color her panties were." He also "though the use of emojis" suggested "that they make a sex tape together," the report said.
The Ethics Committee said "similarities in the allegations bolster the credibility of the complaints."
The panel determined that "as a Member of Congress, Representative Kihuen engaged in unwanted physical contact by repeatedly kissing DC Firm Employee's cheek and touching her shoulders and lower back, and engaged in unwanted verbal advances by commenting on DC Firm Employee's physique."
The Ethics Committee said it determined that Kihuen violated House Rule XXIII, which states that lawmakers "shall behave at all times in a manner that shall reflect creditably on the House." The panel added that Kihuen "downplayed his actions" while speaking to investigators but says he "apologized to the complainants and acknowledged that his actions may have been perceived in ways other than what he intended."
The Committee said "Kihuen now appears to better understand the effects that a power imbalance can have."