House Dems Meet as Weiner Takes Time-Out From Congress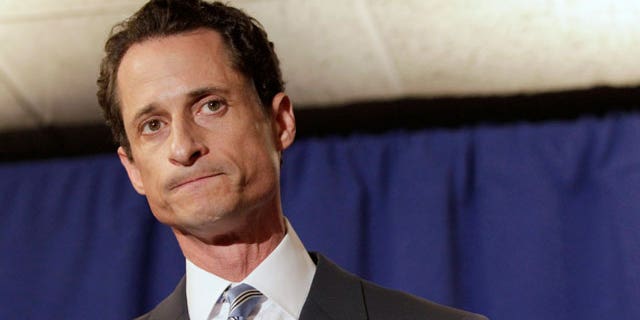 NEWYou can now listen to Fox News articles!
House Democrats, meeting Tuesday for the first time since Rep. Anthony Weiner confessed to his sexual misbehavior, are applying the screws as they try to persuade him to leave office.
But Weiner so far has rebuffed their calls, requesting instead a two-week leave of absence -- time he apparently will spend seeking "treatment." If two weeks is not enough to cure years of online hanky-panky, it will at least buy time for him to consider his future.
Though the New York Democrat has for days faced calls to resign, those close to him say he won't make a final decision until he talks it over with his wife, Huma Abedin, an aide to Secretary of State Hillary Clinton who for the past week has been on an overseas diplomatic trip. The two are currently en route home.
Top Democrats are trying to make the choice as obvious as possible.
"I can tell you that if it was me, I would resign," President Obama said in an interview with NBC.
On the other side of the aisle, House Speaker John Boehner, R-Ohio, also said Tuesday that Weiner should resign.
The House Democratic Caucus met Tuesday morning on Capitol Hill. Rep. Rob Andrews, D-N.J., said afterward that discussion of Weiner took up just 5 percent of the meeting, and that members did not discuss potential punishment for the congressman. But House Democratic Leader Nancy Pelosi made clear that Weiner's colleagues have a message for him.
"I hope that the, president having spoken and some leaders in Congress speaking out, that Congressman Weiner will hear this and know that it's in his best interest for him to leave Congress," Pelosi told reporters Monday.
She also noted that "not anybody here has the power to force somebody out of office."
Referencing one bit of leverage the leadership has, Pelosi said Weiner certainly wouldn't be offered any plum committee assignments if he were to stay -- but she urged him to make the decision himself to leave.
"This is beyond committee assignments. This is, we are asking to leave," she said.
Obama questioned whether Weiner can still do his job with the scandal hanging over his head.
"When you get to the point where, because of various personal distractions, you can't serve as effectively as you need to, at the time when people are worrying about jobs, and their mortgages, and paying the bills -- then you should probably step back,'' Obama said in the interview.
Weiner admitted at an emotional news conference last week to sending racy photos and messages to six women he met through social networking websites over the past three years, though he said he never met any of them in person.
His decision to seek treatment followed his acknowledgement that he had exchanged online messages with a 17-year-old girl in Delaware, first revealed by FoxNews.com. Weiner and the girl's family attorney said nothing improper had passed between the two of them. Police sources told FoxNews.com that computer forensics experts are reviewing the exchanges.