House could investigate Kavanaugh if he's confirmed, Nadler says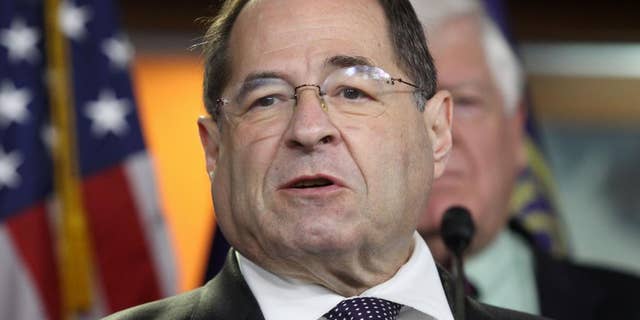 The House Judiciary Committee would investigate Brett Kavanaugh if he's confirmed to the Supreme Court and Democrats regain a majority in Congress' lower chamber, Rep. Jerrold Nadler, D-N.Y., said Sunday.
Nadler, who likely would chair the committee if Democrats regain control of the House, told ABC News' "This Week" that lawmakers "would have to investigate any credible allegations ... of perjury and other things that haven't been properly looked into before."
A Senate vote on Kavanaugh's confirmation is on hold while the FBI conducts a supplemental background review of sexual misconduct allegations against the federal judge dating from his days as a high school and college student in the early 1980s.
"We can't have a justice on the Supreme Court for the next several decades who will be deciding ... all kinds of things for the entire American people who has been credibly accused of sexual assaults," Nadler said. "This has got to be thoroughly investigated."
"If he is on the Supreme Court and the Senate hasn't investigated, then the House will have to."
COMEY BLASTS KAVANAUGH PROBE DEADLINE, SAYS FBI SHOULDN'T HAVE 'SHOT CLOCK'
The latest investigation was requested by Sen. Jeff Flake, R-Ariz., who voted along with the rest of his GOP colleagues to recommend Kavanaugh's nomination to the full Senate on Friday. On Sunday, Nadler called on Flake and other senators who requested the investigation to ensure the FBI had a "free hand" to investigate the allegations against Kavanaugh.
"I would hope that Senator Flake and others would not vote -- would make clear that their votes cannot -- will be for the nominee unless there is a free hand for proper investigation of these very serious allegations of sexual assaults," he said.
KAVANAUGH SOUNDED LIKE HE WAS 'UNJUSTLY ACCUSED' AT HEARING, FLAKE SAYS
Kavanaugh has denied allegations that he sexually assaulted Christine Blasey Ford when he was in high school, as well as claims that he exposed himself to college classmate Deborah Ramirez during a party at Yale University.
A third woman, Julie Swetnick, accused Kavanaugh and high school friend Mark Judge of excessive drinking and extremely inappropriate treatment of women in the early 1980s, among other accusations. Kavanaugh has called her accusations a "joke." Judge has said he "categorically" denies the allegations.
The Associated Press contributed to this report.