Historic USS Carl Vinson Transformed into Basketball Court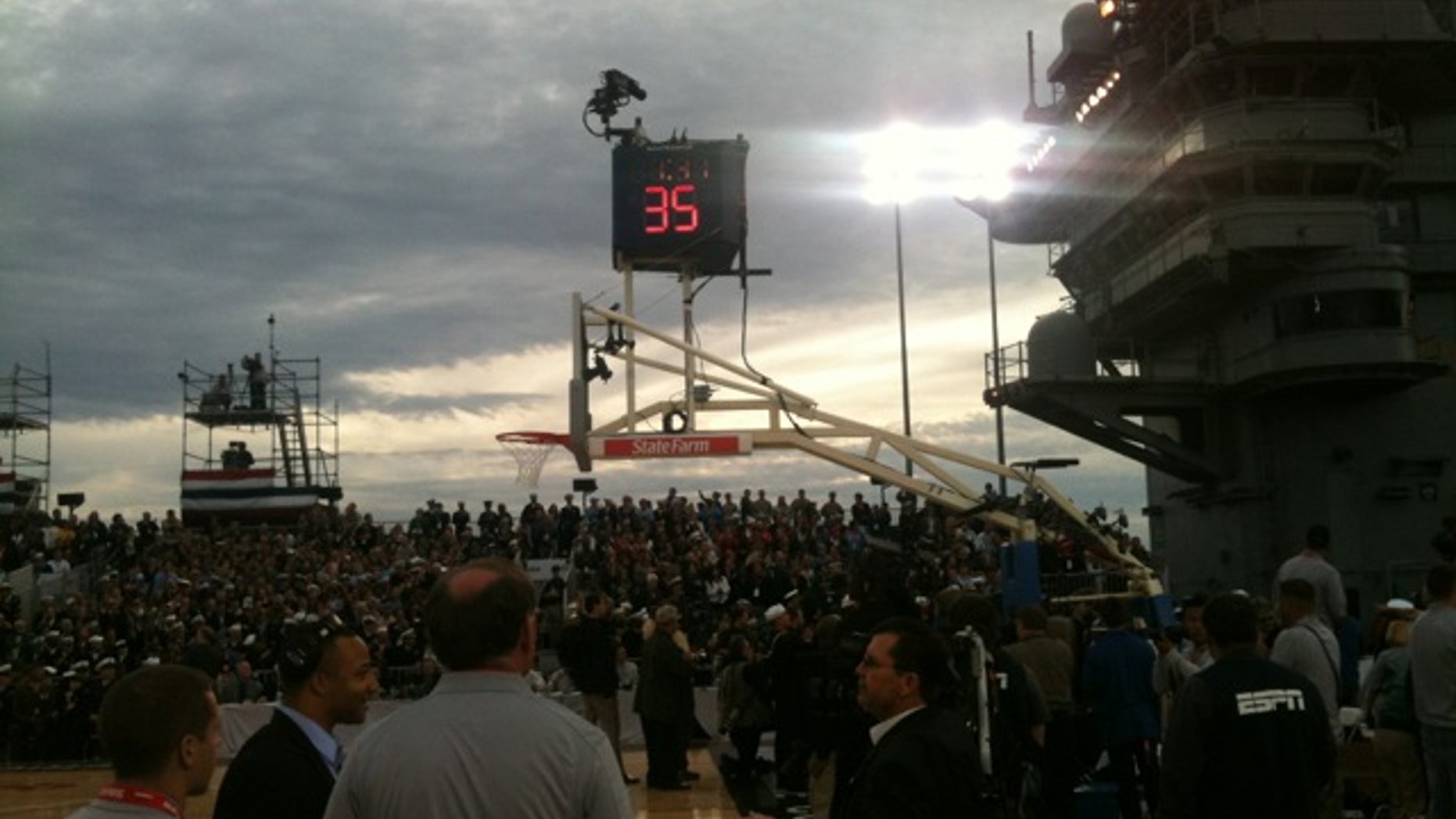 SAN DIEGO -- In a game the first of its kind, on a carrier that has hosted one-of-a-kind historic moments, the USS Carl Vinson was transformed into a NCAA regulation basketball court Friday in San Diego.
There are shot clocks, fans in stands, sidelines, concessions, and court-side cheers, but this is no normal basketball court.
The carrier, when in active use, houses about 4,500 sailors carrying out disaster relief or dangerous war missions.
Friday on the blacktop where combat aircraft normally land, it was topped off into a basketball court with all the trimmings for an NCAA game including benches and jumbo TV screens all set for a match-up between the University of North Carolina and Michigan State.
Named after former Georgia Congressman Carl Vinson, the craft most recently was used to bury terrorist Osama bin Laden at sea.
After being on the U.S.'s most wanted list for more than a decade, bin Laden's body was disposed at sea after he was killed in Pakistan. A covert Navy SEAL mission carried out shortly after President Obama gave the approval for the action.
On October 7, 2001, the Vinson was also the first ship to launch air strikes in support of Operation Enduring Freedom in Iraq.
The ship cost nearly $4 billion to build and carriers 75 combat aircraft.
The massive vessel - 1,092 feet long, is nearly as long as the Empire State Building or three football fields.
It's the third ship of the Nimitz-class aircraft carriers with the call sign, "Gold Eagle."
The carrier also helped in initial efforts after the Haiti quake delivering more than two million pounds of aid including medical supplies, water and more than a million pounds of food.
In normal operation, the ship has five dentists, an oral surgeon, five doctors and a 63-bed hospital ward.
President Obama, an avid basketball fan and player himself, came to support troops on this Veterans Day.