Hillary Clinton to speak in front of Latino lawmakers in Nevada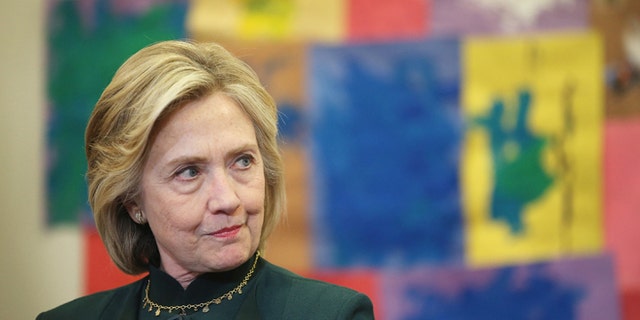 NEWYou can now listen to Fox News articles!
Democratic presidential candidate Hillary Clinton will address the country's largest gathering of Latino policymakers and leaders on June 18 in the battleground state of Nevada, according to a spokesperson for the National Association of Latino Elected and Appointed Officials, or NALEO.
The group, a nonpartisan organization whose constituency includes more than 6,000 Latino officials, has invited all of the 2016 presidential aspirants from both parties to a presidential forum later this month, but Clinton, who is the overwhelming front-runner in the Democratic field, is among the first to confirm her attendance.
"The road to the White House in 2016 runs through the Latino community," Arturo Vargas, NALEO's executive director, said in a statement to Fox News Latino. "We are pleased to have Hillary Clinton join the nation's largest gathering of Latino policymakers and look forward to hearing her address the most pressing issues facing the Latino community today."
The Clinton campaign has made overtures to Latino voters since entering the race earlier this year. In her first visit to Nevada in May, the former secretary of state met with Latino high school students and promised that, if elected president, she would overhaul the immigration system.
Part of that overhaul, she said, included a path for undocumented immigrants to become U.S. citizens – a position favored by so-called "Dreamer" activists and other immigrant rights activists.
"The standard for a true solution is nothing less than a full and equal path to citizenship," Clinton said during her stop in Las Vegas.
Clinton also selected prominent Dreamer Lorella Praeli as Latino outreach director for her campaign in May.
"Since Day 1 of her campaign, Hillary's team has been deliberately and openly engaging the Latino community," one Clinton aide told FNL. "This includes reaching out to Hispanic business leaders, immigration advocates, elected officials and families across the country."
The aide added, "Throughout her career, Hillary Clinton has fought to strengthen the Latino community and keep their families together while giving them the voice they deserve in our political process."
Latino voters are considered by many political experts as the "sleeping giant" in the 2016 presidential cycle.
In the past Hispanics have largely supported Democratic candidates for president – 71% voted for President Barack Obama in the 2012 election, for instance.
In the 2016 political cycle, however, the vote may be more competitive. Two Latino presidential candidates – Sen. Marco Rubio of Florida and Sen. Ted Cruz of Texas – are Republicans.
A presumed GOP 2016 presidential candidate, former Florida Gov. Jeb Bush, speaks fluent Spanish, is married to a Latina and was popular among Latinos in Florida during his tenure. He has also made major efforts to appeal to Latino voters, including making a campaign trip to Puerto Rico.
Clinton, however, has been popular among Hispanic voters for years. In 2008, she carried the Latino vote during her primary battle with Obama by a 2 to 1 margin.
In Nevada, Clinton beat Obama 64 to 26 percent among Latinos, according to the Pew Hispanic Research Center. As a senator, Clinton co-sponsored the DREAM Act and has supported "a pathway to citizenship for over a decade," according to a statement provided by her campaign during her first visit to Nevada.
Clinton's campaign points out that her ties with the Latino community can be traced back to her work on the 1972 George McGovern presidential campaign in Texas, where she drove along the Rio Grande Valley to register voters.
Former Maryland Gov. Martin O'Malley, another Democrat, has also made an effort to target Latino voters during much of his career.
Since announcing his run last Saturday, O'Malley has appeared on Spanish-language news networks and, on Wednesday, met with the U.S. Hispanic Chamber of Commerce.
Arturo Vargas said that NALEO is expecting other candidates to attend its presidential forum.
Previous conferences have featured Obama as well as 2012 GOP nominee Mitt Romney. Of the 2016 candidates, Clinton, Bush and Rubio have all previously spoken before the influential Latino organization.