Hillary Clinton slammed for no-apology response to harassment story
NEWYou can now listen to Fox News articles!
Hillary Clinton's latest return to the spotlight is being met with criticism.
While the 2016 Democratic presidential candidate took some ribbing for her cameo Sunday at the Grammys, there's even more "fury" over her response to the bombshell report that she helped protect a senior adviser to her 2008 campaign amid accusations he sexually harassed a subordinate. Without apologizing, she said simply that women should be "heard" – and meanwhile showed up in a Twitter clip giving a shout-out to "activist b----es" the same day that report was published.
The New York Times first revealed the 2008 incident Friday, reporting that Clinton intervened to help keep her faith adviser, Burns Strider, on board. She effectively overruled then-campaign manager Patti Solis Doyle, who wanted to fire Strider.
Strider was sent to counseling and lost several weeks of pay, but remained on staff while the younger woman was moved to a new role.
HILLARY CLINTON PROTECTED '08 CAMPAIGN ADVISER ACCUSED OF SEXUAL HARASSMENT: REPORT
Clinton responded to the report late Friday on Twitter, but fell short of issuing an apology.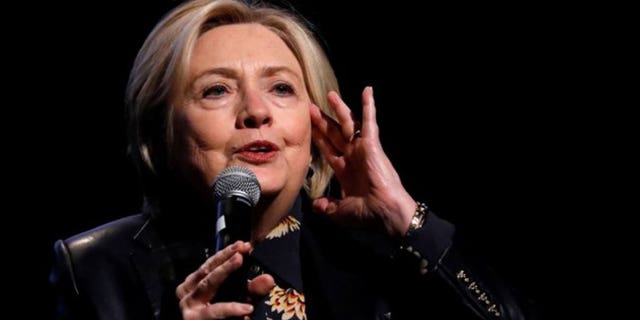 "A story appeared today about something that happened in 2008. I was dismayed when it occurred, but was heartened the young woman came forward, was heard, and had her concerns taken seriously and addressed," Clinton tweeted.
She added: "I called her today to tell her how proud I am of her and to make sure she knows what all women should: we deserve to be heard."
Clinton's response drew bipartisan criticism over the weekend, including from a liberal-leaning member of the Washington Post editorial board.
HILLARY CLINTON MAKES GRAMMY'S CAMEO TO MOCK TRUMP BY READING 'FIRE AND FURY'
"Classically, infuriatingly, this episode and its aftermath exposes, once again, the trademark Clinton failure to take personal responsibility; the allergy to owning up to error; the refusal to cede any ground, no less apologize; the incessant double-standarding with different, more forgiving rules for the Clintons and their loyalists," the Post's Ruth Marcus wrote in a column over the weekend titled, "Hillary Clinton: #MeToo, meet #SoWhat."
Marcus laid out an alternative, perhaps more appropriate response for Clinton in her column, daring readers to "imagine a Hillary Clinton" who apologized for her "lapse in judgment" during the time of the incident.
"Imagine that Hillary Clinton. She doesn't exist," Marcus wrote.
Other pundits and journalists slammed Clinton's response on Twitter throughout the weekend.
"Everything Clinton says or does is seen through its own unique polarized prism, but by no measure would this employer's response be described as appropriate or responsible in any of the other harassment stories that have come to light in recent months," NPR's Susan Davis tweeted Saturday.
Daily Caller reporter Chuck Ross tweeted: "Women deserve to be heard, unless they have an NDA or something."
The woman in question and other Clinton campaign staffers reportedly were required to sign a nondisclosure agreement barring campaign aides from publicly discussing inner workings of the Clinton team.
The woman reportedly had accused Strider of rubbing her shoulders inappropriately, kissing her on the forehead and sending suggestive emails.
Prior to Clinton's response, a Clinton spokesman gave Fox News a statement from the law firm that represented the 2008 campaign:
"To ensure a safe working environment, the campaign had a process to address complaints of misconduct and harassment," the statement from Urecht, Kleinfeld, Fiori, Partners said. "When matters arose, they were reviewed in accordance with these policies, and appropriate action was taken. This complaint was no exception."
Clinton has seemingly remained in close contact with Strider, with photos taken as recently as October 2017 that show them together.
Strider later was hired to lead an independent group that supported Clinton's 2016 presidential run, Correct the Record, which was launched by Clinton ally David Brock. But he reportedly was fired from Brock's firm months later for workplace issues, including accusations that he, again, sexually harassed a young female aide.
Strider did not respond to Fox News' request for comment.
Amid the fallout from the Times report, Clinton also appeared in an unusual video on Twitter voicing support for "activist b----es."
"Hey everyone, I just wanted to say thanks," Clinton said, sitting at a booth. "Thanks for your feminism, for your activism, and all I can hope is you keep up the really important, good work."
She added with a laugh: "And let me just say, this is directed to the activist b----es, supporting b----es. So let's go."
Clinton wrapped up the weekend with her cameo at the Grammy Awards, where she read excerpts from Michael Wolff's "Fire and Fury: Inside the Trump White House."