Hillary Clinton praises 'activist b----es supporting b----es' in online video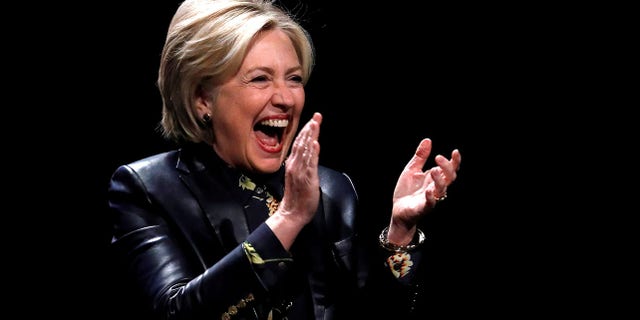 2016 Democratic nominee Hillary Clinton praised "activist b----es supporting b----es" in a video shared on Twitter Friday night.
The video, shared by HuffPo commentator Alex Mohajer, showed Clinton thanking "everyone" for their feminism, activism, and encouraging supporters to keep up their "really important, good work."
Someone in the background then makes a reference to "activist b----es supporting b----es," to which she repeats that it is indeed directed to such people.
"So lets go!" she says. It was not clear where or when the video was recorded.
The video isn't the first slightly awkward moment Clinton has had in short videos. She was mocked during the 2015 Democratic primary campaign for a Vine in which she said she was "just chillin' in Cedar Rapids," accompanied by a drink holder saying: "More like Chillary Clinton, amirite?"
The new video came on the same day as a New York Times report that claimed Clinton shielded a faith adviser who was accused of sexual harassment during her 2008 bid for the presidency.
She responded to the report Friday night claiming that the woman's concerns were "taken seriously and addressed," despite the report saying she ignored urging from aides that she fire the adviser.